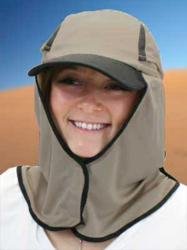 Combining sun protective products with sun safety measures can lead to youthful and healthy skin.
San Diego, CA (PRWEB) January 08, 2013
SunGrubbies.com, a leading online retailer of sun protective products, is pleased to announce their line of full face protection products. These items are specifically designed to protect against UV rays but they also work well to guard against extreme winter weather.
The Kalahari Hat is made from a soft micromesh fabric and has a 3 ¾ inch brim. It has an elastic headband with a cotton sweatband sewn inside. The adjustable face drape comes with a velcro tab. The Kalahari will block more than 98% of damaging UV rays.
The Solar Face Shield is a unique product that is available with a 6 or 7 inch tinted face shield. With adjustable positions, this product blocks 98.2% of UVA rays and 99% of UVB rays. The trim of the Solar Face Shield comes in two colors and is also available in a fun polka dot print. This product is an excellent solution for people with hyper pigmentation issues, people who have had laser or chemical peels or anyone looking for the maximum in face protection.
While not falling into the category of full face protection, Nose Guards will protect the area of the face that takes a beating every season: the nose. Nose Guards come in various sizes and can be attached to any pair of glasses. In addition, the velcro attachment strip makes them interchangeable.
This winter, treat skin with care by keeping it covered and protected against nature's harsh elements. Combining sun protective products with sun safety measures can lead to youthful and healthy skin.
The goal of SunGrubbies.com is to help people enjoy a lifetime of good health by offering attractive and comfortable sun protective clothing and accessories of the highest quality and reliability at affordable prices. SunGrubbies.com has products that have been approved and recommended by the Skin Cancer Foundation and the Melanoma International Foundation.
Every product has been laboratory tested for their sun protective ability and every purchase is 100% guaranteed.
Visit http://www.sungrubbies.com for more information about their sun protective products. They can also be reached toll free at (888) 970-1600. To join the SunGrubbies.com affiliate program, go to http://bit.ly/ifRDrH. Their boutique showroom and hat shop located in San Diego is open by appointment.