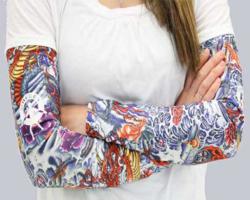 Sun safety is a must to keep skin youthful!
San Diego, CA (PRWEB) December 04, 2012
SunGrubbies.com is a leading online retailer of sun protection products. They have been in the business of protecting skin from damaging UV (ultraviolet) sun rays for over 15 years.
A trip to the SunGrubbies.com website, http://www.sungrubbies.com, is a simple way to wrap up holiday shopping. All products are categorized by gender and activity which makes selecting last minute gifts quick and easy.
Sun protective items such as wide brim hats and clothing can be found on the website. Check out the selection of sunglasses and sun gloves. Water shirts are available for those headed to warmer climates this winter. This is also the place to find truly unique items like nose guards, face shields and tattoo sun sleeves.
Sun safety is a must to keep skin youthful and giving a gift of sun protection is a great way to encourage a healthy lifestyle. Sun protection is important any time of the year because UV radiation can damage skin year round.
Sun safe products are available for adults, children and infants.
The goal of SunGrubbies.com is to help people enjoy a lifetime of good health by offering attractive and comfortable sun protective clothing and accessories of the highest quality and reliability, at affordable prices. An independent laboratory tests their products for their sun protective quality. Many of their products are approved by The Skin Cancer Foundation and the Melanoma International Foundation. Every purchase made from SunGrubbies.com is one hundred percent guaranteed.
Visit http://www.sungrubbies.com for more information about their sun protective products. They can also be reached toll free at (888) 970-1600. To join the SunGrubbies.com affiliate program, go to http://bit.ly/ifRDrH. Their boutique showroom and hat shop located in San Diego is open by appointment.