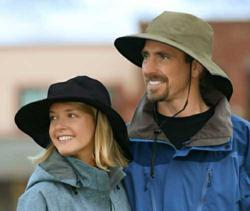 The face, neck and ears are prime spots for a bad and unsightly sunburn to occur.
San Diego, CA (PRWEB) January 23, 2013
Snowbirds can flee from the cold to tropical locales and winter travelers can seek snow covered mountains, but it is impossible to escape the sun's damaging UV (ultraviolet) rays. SunGrubbies.com is pleased to present their line of products designed for winter travel.
Here are four facts about the winter sun:

UV rays increase 4% with every 1000 foot increase in altitude.
The strength of the sun is 80% stronger when reflected off snow or water.
UV rays increase in intensity the closer to the equator.
Clouds do not provide protection for UV rays. 80% of UV radiation can penetrate cloud cover.
Check out SunGrubbies.com "Sun Safety Packing List" before heading off this winter. This page provides pictures and descriptions of sun protective items designed especially for travel. In addition there are tips to insure a sun safe vacation.
It is important to know how to choose the perfect sun hat because a wide brim hat is a must-have on any winter get-a-way. The large brim will shade the face, neck and ears. These areas are prime spots for a bad and unsightly sunburn to occur.
Sunglasses should also be included. Fashionable large frame sunglasses that offer 99 to 100% UV protection are the best choice. SunGrubbies.com has a variety of sunglasses in various styles. In addition, SunGrubbies.com is proud to carry the new Jackie K line of sunglasses, inspired by the former first lady.
Memories from this year's trip should not include a sunburn. Protect skin by wearing sun protective products and be sun smart.
The goal of SunGrubbies.com is to help people enjoy a lifetime of good health by offering attractive and comfortable sun protective clothing and accessories of the highest quality and reliability, at affordable prices. An independent laboratory tests their products for their sun protective quality. Many of their products are approved by The Skin Cancer Foundation and the Melanoma International Foundation. Every purchase made from SunGrubbies.com is one hundred percent guaranteed.
Visit http://www.sungrubbies.com for more information about their sun protective products. They can also be reached toll free at (888) 970-1600. To join the SunGrubbies.com affiliate program, go to http://bit.ly/ifRDrH and they can also be found on Facebook. Their boutique showroom and hat shop located in San Diego is open by appointment.