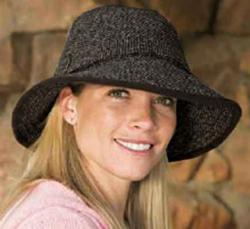 It is never too late to start protecting your skin.
San Diego, CA (PRWEB) October 30, 2012
Summer may be over but winter sun protection is still important because UV (ultraviolet) radiation is present all year round. A winter sun hat offers protection by shading the face, neck and ears. These are prime areas for premature aging and skin cancer to occur.
Winter weather means rain, snow and wind. SunGrubbies.com has fashionable hats that can be worn during these cold and blustery months.
The Sierra Wool Hat and the Vivian Felt Hat are two good choices for windy days. In addition to larger brims, these two hats have chin straps that will keep the hat tight to the head.
Light rain and snow flurries will not dampen the style of the Vivian or the New Haven Hat. These two hats are water repellent.
For a waterproof winter hat with a large brim, choose the Cloudburst Rain and Sun Hat. The downward sloping brim offers complete UV protection for the face and neck. This hat also has a six inch neck drape that extends past the collar line.
For winter travel, packable hats like the Aubrey, New Haven Fashion and the Vivian will work well. These hats fit comfortably into a suitcase. The Aubrey can even be folded and stuffed into a bag or a coat pocket.
The Elements Cap is designed to wear under a helmet. Besides providing protection while bike riding, this cap works well for snow skiing to protect against reflective UV rays.
It is never too late to start protecting your skin. Be sun smart and make it a daily activity and do not rely on one product for complete protection. The best plan is to combine sun protective products with sun safety measures.
The goal of SunGrubbies.com is to help people enjoy a lifetime of good health by offering attractive and comfortable sun protective clothing and accessories of the highest quality and reliability, at affordable prices. All of their products have been laboratory tested for their sun protective quality and many of their products are recommended and approved by The Skin Cancer Foundation and the Melanoma International Foundation.
Every purchase is one hundred percent guaranteed.
Visit http://www.sungrubbies.com for more information about derby hats and other sun protective products. They can also be reached toll free (888)970-1600. To join the SunGrubbies.com affiliate program, go to http://bit.ly/ifRDrH. Be sure and visit the boutique showroom and hat shop if you live in the San Diego area or are planning visit. Please call for an appointment.