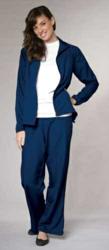 Sun protection is important year round.
San Diego, CA (PRWEB) October 16, 2012
UVA and UVB are the two main types of UV radiation. While UVB rays will lessen in intensity after September, UVA rays are strong all year long and all day long. These rays penetrate skin the deepest and are responsible for the majority of premature aging. Do not be fooled into thinking that cold weather or clouds will not decrease the dangers of UV radiation. Clouds stop only five to forty percent of UV radiation and UV radiation is not affected by temperature. Both UVB and UVA can cause skin cancer so this is not the time to "fall back" on sun protection.
Sun protection is important all year round. SunGrubbies.com has sun protective clothing and accessories that are great fall picks this season. Cooler temperatures allow for layering and heavier fabrics. Long sleeve tees paired with full zip jackets and stylish pants are fashionable outfits that will help in providing maximum protection. And, sun protective hoodies are perfect for cool fall evenings.
Wool hats with wide brims will keep heads warm as well as shading the face, neck and ears. These areas are prime spots for skin cancer.
Natural sunscreens will protect against both UVA and UVB radiation. They nourish and moisturize skin with vitamins and antioxidants.
Protect eyes with over-sized lens sunglasses. They will protect eyes against dangerous sun rays that can cause cataracts. Choose a pair that are wrap-around or that have a wide ear piece. This helps block UV rays from above and from the sides. Be mindful of reflective surfaces such as concrete, water, snow, sand and ice; they can increase UV exposure.
Visit http://www.sungrubbies.com to view these and other sun protection products.
This fall, leaves will age quickly. Do not let skin do the same. Remember to be mindful of the power of the sun and protect against its dangerous rays.
The goal of SunGrubbies.com is to help people enjoy a lifetime of good health by offering attractive and comfortable sun protective clothing and accessories of the highest quality and reliability, at affordable prices. An independent laboratory tests their products for their sun protective quality. Many of their products are approved by The Skin Cancer Foundation and the Melanoma International Foundation.
Every purchase made from SunGrubbies.com is one hundred percent guaranteed.
SunGrubbies.com can be reached toll free at 888-970-1600. To join the SunGrubbies.com affiliate program, go to http://bit.ly/ifRDrH. Their boutique showroom and hat shop located in San Diego is open by appointment.