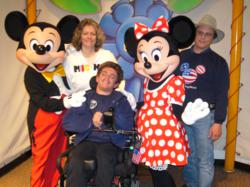 What started as a hobby is now a Dream Job for us.
Davenport, Florida (PRWEB) May 10, 2013
From the humble beginnings of a single vacation home to managing close to 50 vacation homes near Disney World, the staff of SunKiss Villas celebrates 14 years in operation! It is obvious that SunKiss Villas continues to operate on the same values that it was founded on – guest service, honesty and commitment to the care of the homes it manages. Upholding these values in business practice are certainly some of the main reasons SunKiss Villas continues to grow during a period when so many other management companies have gone by the wayside.
"Guest service and care of the Disney vacation homes we manage are extremely important to us because our reputation is based on the experience our guests and owners have. We have seen so many management companies disappear because of dishonesty and bad business practices, it is truly sad. At the same time, it has been good for us because owners are looking for quality management and we are recommended to them by realtors and resort managers who have also had good experiences dealing with us," says Mark Douglas, CEO of SunKiss Villas.
SunKiss Villas was started when Mark and Dora Douglas purchased their first vacation home near Disney World. Mr. Douglas focused on promoting the vacation home and obtaining guests to rent the home while Mrs. Douglas continued working as a hospital CFO. Many family vacations were spent updating and upgrading the home they purchased in order to make the home appealing to guests.
"At first our only desire was to 'break even' and have a place to stay when we came on vacation. We never anticipated we would become a management company," says Mark Douglas, CEO of SunKiss Villas.
The work ethic and aggressive marketing of the Douglas's quickly led to a full calendar of bookings for their Disney vacation home. In order to keep guests and inquiries within the SunKiss network, Mr. Douglas created relationships with other vacation home owners to provide quality placement of overflow bookings in other homes while maintaining the relationship with each guest.
"The number of inquiries and bookings continued to grow and one thing led to another and before we knew it we were keeping 20 homes full, then 30, and now we care for more than 40 Disney vacation homes. What started as a hobby is now a Dream Job for us. It is truly remarkable to see how God has led us. We celebrate every day! We look forward to celebrating many more milestones and helping out guests make great memories in the Disney vacation homes we manage," says Mark Douglas, CEO of SunKiss Villas.