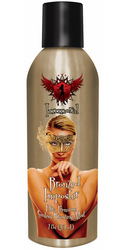 Albany, NY (PRWEB) August 2, 2009
"Bronzed Imposter" is an addition to the current offering of tanning products produced by C and E Products under the Ultra Premium "Immoral" label. It ships in a 7 Oz environmentally friendly CFC free spray can and is good for 2-3 full body treatments. Simply follow the application guidelines on the can and Voila! You have a golden bronze tan that lasts for days!
Bronzed Imposter's secret is its unique tanning spray that uses "True Bronzer Technology". The same tanning technology employed in many of their bronzer tanning lotions such as top sellers BlackOut 100X and Blackmail 500X Silicone Bronzer.
In addition to Bronzed Imposter C and E Products recently released the beginner level Tanning Bronzer "Wickedly Bronzed" along with "Dark Addictions" - a hemp based bronzer with "True Blush Technology". "True Blush Technology" is yet another breakthrough in tanning as it produces the highly sought out results that "Tingle" lotions generate but without the actual "Tingle" sensation that some tanners may not be accustomed to.
Experience the Ultimate Tan with Immoral Tanning Products!
For more information visit http://www.candeproducts.com
About C and E Products:
C and E Products was founded by seasoned veterans within the tanning industry. With a combined experience of over 50 years they have what it takes to produce great high quality products. All of their products are proudly made in the USA with the highest quality ingredients.
C and E Products
518-729-5500
http://www.candeproducts.com
###