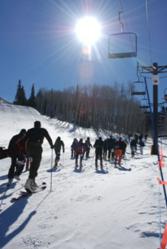 This is the kind of event that attracts a loyal following, and this year we expect to see a lot of familiar faces, as well as racers from across the Rocky Mountain region.
Glenwood Springs, CO (PRWEB) January 03, 2012
For the third consecutive year, the Glenwood Insurance Endurance Challenge at Sunlight Mountain Resort is throwing down the gauntlet: hike up the mountain, race back down — and do it again, and again — for 12 hours. The person or team that accumulates the most laps wins. Simple? Yes. Easy? No. Fun? Definitely!
"This is the kind of event that attracts a loyal following, and this year we expect to see a lot of familiar faces, as well as racers from across the Rocky Mountain region," said Sheila Maurer, Assistant Manager of Base Operations for Sunlight Mountain Resort. "Sure, the challenge is great, but so are the rewards; it's the kind of race that brings out the best in people, whether they are novices or top-tier athletes." Maurer expects over 200 people to turn out for this year's event; the registration deadline for the Endurance Challenge is February 17, 2012.
Testing athletes' fortitude in much the same way a triathlon or century ride might, the objective of the Endurance Challenge is for racers to push personal boundaries, physically and mentally, to record as many laps as possible within a 12-hour time frame. The Glenwood Insurance Endurance Challenge gets underway on Saturday, February 25, at 8:00 AM and ends at 8:00 PM. From a base elevation of 8,225 feet, the course climbs to 9,708 feet, a change of 1,483 feet over a distance of about one mile, with a 27-percent grade. Racers can use skins, stabilizers or simply hike to the top of the run called Rebel. From there it's all downhill — skiing, snowboarding, snowshoeing, hiking or running — on the neighboring run, Beaujolais. Back at the base, solo racers repeat the process as many times as they can.
With fresh legs and lungs at the ready, teams have it a little easier. Racers can compete in different categories as part of a duo team, four-person team or a fire drill team. Duo and four-person teams may divvy up how their members tackle the course as they see fit. For example, racers can each compete for a given amount of time or number of runs before transitioning to the next racer, or they can elect to compete in a relay-style format. In either case, only one person per team is allowed on the course at any given time. Fire drill teams consist of two or more racers. These teams may take as many of their racers on the course as they choose in an attempt to overtake a competing team. Fire drill teams compete against other teams of various sizes within this category, giving bigger teams the advantage here.
There's no doubt this race is a grueling one; to keep racers, spectators and fans entertained, Sunlight Mountain Resort has events planned throughout the day, including live music featuring favorite local talent, drink specials and sponsor giveaways. Racers 21 and over can trade a coupon included in their race packet for a celebratory brew after the final run. Race packets also include a t-shirt and other swag. At the awards ceremony, top finishers will be recognized and prize money will be awarded to first place finishers in the solo and duo categories. Top finishers in the 2011 race were Cary Smith, Men's Solo, with 19 laps, and Jasmine Pierce, Women's Solo, with seven laps. Prizes will be thirty percent of the total amount collected for each category.
The Glenwood Insurance Endurance Challenge is one of the most highly anticipated annual events at Sunlight Mountain Resort. Those interested in making a commitment, whether as a team or as an individual, to challenge the boundaries of mind, body, spirit can register today at https://sunlight.secure.force.com/Endurance. The deadline to register is February 17, 2012.
About Sunlight Mountain Resort
Sunlight Mountain Resort is one of Colorado's best-kept secrets. A winter playground, Sunlight welcomes skiers, snowboarders, cross-country skiers and snowshoers. Known for being family-friendly and affordable, there is something for everyone at Sunlight Mountain Resort, with over 470 acres and 67 trails. Sunlight offers a free shuttle, in-town and on-mountain equipment rentals and retail stores, a ski school, a restaurant, a bar and ongoing special events. Conveniently located near Glenwood Springs, Colorado, Sunlight Mountain Resort is an easy 150-mile drive from Denver along I-70, and is 80 miles from Grand Junction. For more information about Sunlight Mountain Resort, please visit http://www.sunlightmtn.com or call 970-945-7491.
Media Contacts
Sheila Maurer, Assistant Manager - Base Operations
Sunlight Mountain Resort
970-945-7491 ext. 226
Sheila(at)sunlightmtn(dot)com
Jennie Spillane, Marketing Manager
Sunlight Mountain Resort
970-945-7491 ext. 220
Jennie(at)sunlightmtn(dot)com
###