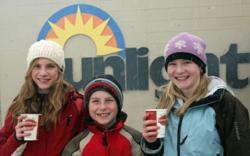 What keeps people coming back for Ski Swim Stay is that it's one of the best deals for Colorado skiing and riding, and it's packed with outstanding extras you won't find anywhere else
Glenwood Springs, Colo. (PRWEB) October 23, 2012
Ski Swim Stay is Glenwood Springs' top lodging and activity package, and has been for nearly a quarter of a century! In an era when lift tickets alone can cost $99 and up, Ski Swim Stay combines outstanding Colorado skiing, one-of-a-kind hot springs amenities and great lodging for the cost of a lift ticket alone at some resorts. Each Ski Swim Stay package includes a lift ticket to ski or ride at Sunlight Mountain Resort, where kids 12 and under ski free with a paying adult, unlimited all-day admission to the world-famous Glenwood Hot Springs Pool and convenient lodging in Glenwood Springs, located just minutes from the base of the slopes. Visitors attending the Denver Ski Expo at the Colorado Convention Center November 2 – 4 can stop by the Sunlight Mountain Resort booth to find out about 5-day passes at Sunlight starting at only $150 per person.
"What keeps people coming back for Ski Swim Stay is that it's one of the best deals for Colorado skiing and riding, and it's packed with outstanding extras you won't find anywhere else," said Tom Jankovsky, general manager for Sunlight Mountain Resort.
With Ski Swim Stay, skiing and riding is as it was meant to be at Sunlight Mountain Resort. Even days after a snowfall, without the crowds there are plenty of powder stashes waiting to be found. Other perks include always-free close-in parking, short lift lines, experienced instructors and delicious, yet affordable, food, snacks and beverages. The mountain itself provides a mix of terrain with plenty to offer the experienced or novice skier or snowboarder. Riders can show off their best tricks in the half-pipe; Sunlight's East Ridge has steeps that will challenge even the most seasoned experts; and Ute, a 2-mile green cruiser, is a joy ride for all and one of the longest runs in the state. All of Sunlight's runs converge at the base, making it easy to meet up with family and friends. To further explore Sunlight Mountain Resort and surrounding areas in the White River National Forest, guests should ask about making a reservation for a snowmobile tour when booking a Ski Swim Stay package.
Glenwood Springs hotels are currently taking reservations for Ski Swim Stay packages even though the season isn't officially scheduled to open until late November. "People know from past experience that Ski Swim Stay packages are popular and book up quickly," said Jennie Spillane, marketing manager for Sunlight Mountain Resort.
One of the reasons Ski Swim Stay has remained a favorite for nearly a quarter century is that Glenwood Springs offers one of the most family-friendly après-ski activities in Colorado: swimming or soaking after a day on the slopes in the world-famous Glenwood Hot Springs Pool. Kids can play until closing time at 10:00 p.m., while adults can soothe tired or sore muscles in the therapeutic water. Visitors don't have to worry about getting cold, even on the chilliest winter days. The Glenwood Hot Springs' therapy pool is kept between 102 – 104 degrees Fahrenheit, while the big pool stays a constant 93 degrees Fahrenheit. Wintertime visitors are often surprised that they can comfortably walk from the pools to the locker rooms in a wet swimsuit with nighttime temperatures hovering around the freezing mark.
Ski Swim Stay packages begin at just $99 per person, the cost of a lift ticket at Colorado's mega-resorts. In addition to skiing and swimming, each package includes accommodations at properties in Glenwood Springs. Choices include stays at historic properties, independent motels, condominiums, franchise establishments and attraction lodging. For the best options, travelers should book early. All of Sunlight Mountain Resort's participating lodges are conveniently located near restaurants and shopping. The Sunlight Mountain Resort shuttle stops at many of them, giving visitors a free lift to and from the slopes.
Ski Swim Stay packages may be booked anytime from opening to closing day, with the exception of December 26, 2012, to January 2, 2013. To book a Ski Swim Stay package, please visit Sunlight Mountain Resort online or call 1-800-445-7931 for reservations. For more information about Sunlight's $150 5-Day passes, please visit the Sunlight Mountain Resort booth at the Denver Ski Expo at the Colorado Convention Center from November 2 – 4.
About Sunlight Mountain Resort
There's so much to smile about at Sunlight Mountain Resort in Glenwood Springs, Colorado. A winter playground, Sunlight welcomes skiers, snowboarders, cross-country skiers and snowshoers. Known for being family-friendly and affordable, there is something for everyone at Sunlight Mountain Resort, with over 470 acres and 67 trails. Sunlight offers a free shuttle, in-town and on-mountain equipment rentals and retail stores, a ski school, a restaurant, a bar and on-going special events. Conveniently located near Glenwood Springs, Colorado, Sunlight Mountain Resort is an easy 150-mile drive from Denver along I-70, and is 80 miles from Grand Junction. For more information about Sunlight Mountain Resort, please visit http://www.sunlightmtn.com or call 970-945-7491.
Media Contacts
Jennie Spillane, Marketing Manager
Sunlight Mountain Resort
970-945-7491 ext. 220
Jennie (at) sunlightmtn (dot) com