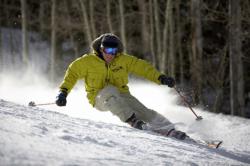 What makes our Ski Swim Stay package a bestseller year after year is that it offers genuine value both on and off the mountain.
Glenwood Springs, Colo (PRWEB) October 04, 2011
For over 20 years, Sunlight Mountain Resort has been the go-to Rocky Mountain resort for fun, affordable ski vacations with a hot springs twist. Sunlight's 2011-2012 Ski Swim Stay package features free skiing for kids 12 and under with the purchase of a full-day adult lift ticket, admission to the Glenwood Hot Springs Pool and choice of accommodations at Sunlight's 15 partner lodges.
"People shop around for the best ski deals, and consistently choose Sunlight's Ski Swim Stay. It's just hard to beat," said Sheila Maurer, Assistant Manager of Base Operations at Sunlight Mountain Resort. "What makes our Ski Swim Stay package a bestseller year after year is that it offers genuine value both on and off the mountain."
Ski. The first day visitors can enjoy all the benefits of Sunlight Mountain Resort's Ski Swim Stay package is opening day on December 2. From that day on, with the exception of December 26, 2011, to January 2, 2012, the resort is a winter playground for Ski Swim Stay guests with 470 acres of navigable terrain, 67 thrilling runs and, of course, some of the best snow in the Rocky Mountains. Besides free skiing for kids 12 and younger, families are pleasantly surprised that prices are friendly resort-wide. For instance, a one-third pound burger and stack of onion rings or French fries at the Out of Bounds Grill at the base lodge is only $6.00. Lessons and rentals are also reasonable. In fact, Ski Swim Stay guests receive a 20 percent discount on ski or snowboard rentals at the Sunlight Ski and Bike Shop in downtown Glenwood Springs (not valid December 26, 2011, to January 2, 2012). Another perk, for those who would rather not drive to the resort, is the Sunlight Mountain Resort Shuttle that picks up guests at various points around town, including many partner lodges, with a return shuttle at the end of the ski day.
Swim. Glenwood Hot Springs is open year round, and winter is one of the best times to soak in the hot mineral springs pool, especially after a day on the slopes. The larger of the two pools spans the length of a football field, and is cooled down to a temperature of 93 degrees Fahrenheit; the smaller therapy pool fluctuates between 102 and 104 degrees Fahrenheit. The pool is open until 10:00 PM every day of the week, an ideal way to relax before turning in for the evening.
Stay. This year Sunlight Mountain Resort has partnered with 15 local lodges in Glenwood Springs. Rates start as low as $99 per night, an unbeatable value that also includes skiing and swimming, with choices that include locally owned inns, nationally recognized franchised hotels, ski-in-ski-out condominiums, a mountainside chalet, cozy cabins or historic properties in downtown Glenwood Springs. Wherever guests choose to lay their heads for the night, they can rest easy knowing that Sunlight Mountain Resort's Ski Swim Stay package saves them a bundle, and it delivers the best Colorado winter fun on and off the slopes.
Sunlight Mountain Resort will be open for the season in just a few short weeks. Plan now and play later. For Ski Swim Stay information and reservations, please call 1-800-445-7931 or visit Sunlight online.
About Sunlight Mountain Resort
Sunlight Mountain Resort is one of Colorado's best-kept secrets. A winter playground, Sunlight welcomes skiers, snowboarders, cross-country skiers and snowshoers. Known for being family-friendly and affordable, there is something for everyone at Sunlight Mountain Resort, with over 470 acres and 67 trails. Sunlight offers a free shuttle, in-town and on-mountain equipment rentals and retail stores, a ski school, a restaurant, a bar and on-going special events. Conveniently located near Glenwood Springs, Colorado, Sunlight Mountain Resort is an easy 150-mile drive from Denver along I-70, and is 80 miles from Grand Junction. For more information about Sunlight Mountain Resort, please visit http://www.sunlightmtn.com or call 970-945-7491.
Media Contacts
Sheila Maurer, Assistant Manager - Base Operations
Sunlight Mountain Resort
970-945-7491 ext. 226
Sheila (at) sunlightmtn (dot) com
Jennie Spillane, Marketing Manager
Sunlight Mountain Resort
970-945-7491 ext. 220
Jennie (at) sunlightmtn (dot) com
###