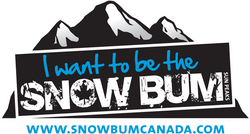 People travel from all over the world for a week at Sun Peaks. This winner will live and ski or board the whole winter…for free!
Sun Peaks, BC (Vocus) October 2, 2009
Sun Peaks Resort is excited to announce a once-in-a-lifetime competition, I want to be the Snow Bum, giving snow-lovers the chance to win an all-inclusive stay in the mountains for the entire 2009/2010 Winter Season.
One lucky skier or snowboarder will spend the ski season (three months) at BC's second largest ski area, skiing, snowboarding, tubing, snowmobiling or even dog sledding! The competition winner will be provided with a season's pass for the mountains, food vouchers, accommodation in a number of Sun Peak's finest hotels, plus equipment and outerwear. The winner will also enjoy a wide range of additional perks including VIP and backstage passes to resort events and functions.
"What could be better than riding every day and living on a mountain in a world class village," says Christopher Nicolson, President of Tourism Sun Peaks. "People travel from all over the world for a week at Sun Peaks. This winner will live and ski or board the whole winter…for free!"
Potential snow bums can win this opportunity to shred all winter by simply submitting a 60-second video showcasing their wit, charisma, love of mountains, and the ability to make the most of this spectacular adventure. The competition is open to any intermediate skier or snowboarder over 19 years, anywhere in the world.
In return for all the snow, accommodation, gear, food and airfare, the winner will be expected to keep the rest of the envious world updated on their activities through social media avenues such as Facebook, Twitter and the official blog on http://www.snowbumcanada.com.
Videos should be submitted to snowbumcanada.com by Sunday, November 15. Sun Peaks' judges will announce finalists on November 19, who will undergo an interview and written-essay assessment. The winner will be announced December 1 and begin their three month stay on January 4, 2010. Contestants must be at least 19 years or older and have an applicable visa for the duration of their stay if they are from outside Canada. For full contest rules visit snowbumcanada.com.
About Sun Peaks
Sun Peaks Resort is a four season destination resort located in the interior of British Columbia near Kamloops. Recently declared 2nd Best Ski Resort in Canada and 10th Best in North America by Conde Nast Traveller Magazine readers, Sun Peaks has three mountains that surround an intimate ski-in, ski-out village. In other seasons, Sun Peaks offers a diverse range of leisure activities including 18 holes of golf as well as numerous events and festivals. Sun Peaks Resort was the first ski resort in North America and is the only resort in Canada to receive the ISO 14001 designation recognizing the resort's environmental policies and practices. Sun Peaks can be accessed by two airport getaways – Kamloops (45 minutes) and Kelowna (2 ½ hours) and by car, only a 4 ½ hour drive separates Sun Peaks and Vancouver, BC.
Media Contacts:
Melanie Simmons
Media Relations Specialist
Tourism Sun Peaks
Direct: 250-578-5387
Sophia Cheng
Media Relations
Curve Communications
Direct: 604-684-3170 ext 104
###