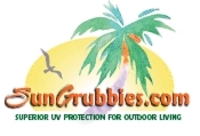 Gardeners take great care in the protection and maintenance of their plants and they should apply the same degree of care to their skin
San Diego, CA (Vocus) July 28, 2010
This year SunGrubbies.com begins its 13th year as an e-retailer of sun protection products. In light of their success, SunGrubbies.com is reaching out to those who care about the earth: gardeners.
"Gardeners take great care in the protection and maintenance of their plants and they should apply the same degree of care to their skin", says Marta Phillips, owner of SunGrubbies.com. Skin cancer is the most common form of cancer in the United States and sun exposure is considered its primary cause.
Gardeners have all the necessary tools, but what about the most essential gardening tool of all – sun protection. SunGrubbies.com also offers a few simple rules to remember before heading outside:

Limit time spent outside.
Try and stay out of the sun between 10 am and 4 pm.
Wear a hat with a brim of at least 3 inches for face and neck protection.
Wear sun protective clothing that protects arms, legs and hands.
Put up an umbrella, sun tent or work in the shade…this also gives the advantage of staying cooler.
Apply and reapply a "broad-spectrum" sunscreen to protect against reflective radiation.
Gardeners will want to check out the special "Outdoor Work" section at SunGrubbies.com. Full body sun protection is important for all gardeners and certain parts of the body, like the neck and arms are especially vulnerable. Products such as the Freezer Neck Buff, Sunsleeves, Chic Sheik neck drape and the Adventure Sun Hat, are easy solutions for comfort and safety. Nose Guards, a Sungrubbies.com best-seller, also offer gardeners complete nose protection. They are extremely thin and adjust to any sunglass shape. There are also sun umbrellas for portable shade and anti-bug sunscreen with the dual purpose for protection against the sun and insects.
SunGrubbies.com is a Southern California based company specializing in sun protection for 13 years. Each year SunGrubbies.com strives to meet the needs of gardeners and all those who love the sun while also raising awareness of the importance of sun protection.
SunGrubbies.com is an e-retailer that can be found on the web at http://www.sungrubbies.com. They can also be reached at their toll free number 888-970-1600. If you live in the San Diego area, be sure and visit their boutique style showroom.
###