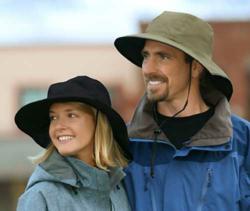 Just about everyone has someone on their list that would benefit from a gift that offers both skin saving and life saving protection.
San Diego, CA (PRWEB) December 06, 2011
Sun protective products are truly a unique gift idea for active individuals or families who spend a lot of time outside. And, a gift of sun protection says you care. SunGrubbies.com, an online retailer of sun protection products since 1997, has been offering unique high quality sun protective products that are comfortable, versatile, stylish and practical.
Sun safety should be practiced year round because dangerous ultraviolet (UV) rays don't take a holiday during the winter season. While UVB rays, also referred to as the "sunburn rays" may lessen this time of year, UVA the "aging rays", are still in full force. UVA rays penetrate deeper into the skin and will cause premature aging. Both types cause skin cancer.
Giving sun protective products is a great way to encourage a healthy lifestyle. While awareness of excessive sun exposure has grown, recent reports state that thirty-one percent of Americans are still forgoing sun protection and sixty-nine are only using protection from the sun occasionally. Proper sun protection includes wearing a wide brim hat, sun protective (UPF) clothing, effective sunscreen, avoiding tanning booths and the mid-day sun.
Just about everyone has someone on their list that would benefit from a gift that offers both skin saving and life saving protection. Here is a list of fun sun products to add to the holiday shopping list:

A wide brim hat of at least three inches that will provide shade to the head, face and neck. This is a great gift for any outdoor enthusiast. Many of the hats are pack able which makes them great for someone who is planning a winter vacation.
Broad spectrum sunscreens and lip balms that are all natural make great stocking stuffers. Skiers, hikers and fishermen will love finding these items in their stocking.
Mesh vents, security pockets and built-in bug repellent are just some of the unique features found in UPF clothing. In addition, these items are ultra lightweight and wrinkle resistant which makes them perfect for traveling.
Unique sun protection items like Face Shields, Sun Hoods and even Nose Guards are a perfect gift for someone who is hard to buy for.
Sun Sleeves and Sun Gloves will protect two of the most exposed areas of the body while at play or driving. And, for a gift of humor try sun sleeves made of tattoo print fabric.
For over fourteen years, SunGrubbies.com has been specializing in sun protection. All products are laboratory tested for their sun protective ability and many are recommended and approved by the Skin Cancer Foundation, the Melanoma International Foundation and the Skin and Cancer Federation of Australia. Every purchase from SunGrubbies.com is 100% guaranteed.
Free Standard Shipping from now until midnight December 18th. Code: Cheer
For more information about SunGrubbies.com and their sun protective products, check out the SunGrubbies.com website at http://www.sungrubbies.com and on Facebook. They can be reached at their toll free phone number (888) 970-1600. To join the SunGrubbies.com affiliate program, go to http://bit.ly/ifRDrH. Be sure and visit their boutique showroom and hat shop if you live in the San Diego area or are planning a visit.
###