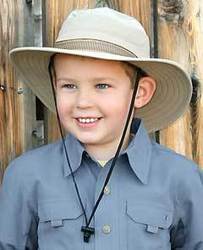 San Diego, CA (Vocus) October 13, 2010
More than half of an individual's sun exposure occurs during childhood and adolescence. According to the American Academy of Dermatology (AAD), approximately 1 out of every 5 children in the United States will grow up to have some form of skin cancer. At school, the exposure happens when the ultraviolet rays are the most damaging, during recess and lunch time. Sun exposure also occurs walking to and from school and to class, as well as after-school sports and field trips.
Sun protection has no season. UVB radiation may lessen during the winter months but harmful UVA radiation is in full force all year long. UVA penetrates the skin the deepest and the intensity of the rays is constant throughout the day and all year long. The damage from these rays can occur without the warning sign of sunburn. UVB, also called the sunburn ray, targets the top layer of the skin and its strength is determined by the time of day, mid-day being the strongest.
Playground sun safety starts with discovering your school's rules and guidelines regarding sun protection. Parents should advocate for sun safety policies at their children's school. California passed legislation, effective January 1, 2002, that now allows students to wear sun protective hats and clothing when they are outdoors. The new law still allows schools to prohibit certain clothing and hats that are judged to be inappropriate. Kids (and staff members) should wear brimmed hats when outside. Baseball caps may be popular, but they basically shade only the forehead. SunGrubbies.com carries a selection of boys and girls wide brimmed sun hats as well as legionnaire style hats for extra neck protection. There is even a sun protection hat for kids to paint on their own designs … a fun motivation in getting kids to wear their hats.
Recently the general public, including parents, began to question the safety of the ingredients in sunscreens. Many popular sunscreens include ingredients known to disrupt biological functions as well as pollute our environment. An in-depth analysis of sunscreen safety and effectiveness by the Environmental Working Group found that over 500 commercial sunscreens failed to adequately protect the skin and/or contain hazardous chemicals. SunGrubbies.com features kid friendly sunscreens that are biodegradable, non-chemical and made of organic ingredients. Sunscreen is an important weapon in the fight against skin cancer, so parents will want to apply sunscreen to children before coming to school.
Sun safety can be promoted at school by conducting educational programs for the kids and staff about UV radiation effects, risk factors for overexposure and sun protection habits. You can find free education curriculum links on the SunGrubbies.com website. And, for elementary schools in the San Diego area, SunGrubbies.com offers a free sun safety class geared for 2nd graders.
Lastly, consider the construction of shade structures and planting shade trees in playground areas and school common grounds. Not only will the structures help protect your child from harmful UV rays but it will also keep the ground temperatures cooler.
For information to help your school become more sun safe please visit: http://www.sungrubbies.com/product_index_html/School-Sun-Hat.htm . You will find topics such as school policy planning, information for educators and sun protection programs for kids as well as brimmed and legionnaire style sun hats kids will love.
Elementary schools in the San Diego area can also request SunGrubbies.com visit their location and present a fun sun safety class for the 2nd graders.
###