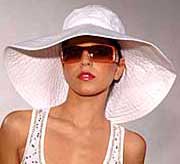 WIN the war against premature aging and skin cancer!
San Diego, CA (PRWEB) March 07, 2012
Sungrubbies.com, an online retailer of sun protections products, http://www.sungrubbies.com would like to offer some sun safety tips this racing season:

WIN the war against premature aging and skin cancer.
PLACE an order for a fashionable sun protective derby hat.
SHOW up at the track fashionably sun safe and sun protected.
The tradition of wearing a hat to the derby dates back more than one hundred years and it is a custom considered good luck. Do not be unlucky this racing season by failing to heed the advice of dermatologists and skin specialists that recommend daily sun protection especially for prolonged sun exposure.
Skin cancer is the most common form of cancer in the United States. Every effort should be made to protect skin from harmful ultraviolet (UV) rays that accelerate the aging process and may lead to skin cancer.
Fashion and sun protection can go hand-in-hand. SunGrubbies.com has expanded their stable of derby sun hats to include more hats with large brims that exceed the recommended brim size of three inches. These stylish and fashionable hats offer optimum sun protection.
It is important to remember that no single product will provide one hundred percent protection against UV rays. Combine a wide brim hat, natural sunscreen and seek shade when possible to achieve maximum protection.
The goal of SunGrubbies.com is to help people enjoy a lifetime of good health by offering attractive and comfortable sun protective clothing and accessories of the highest quality and reliability, at affordable prices. All of their products have been laboratory tested for their sun protective quality and many of their products are recommended and approved by The Skin Cancer Foundation, the Melanoma International Foundation and the Skin and cancer Federation of Australia. Every purchase is one hundred percent guaranteed.
Visit http://www.sungrubbies.com for more information about derby hats and other sun protective products. They can also be reached toll free (888)970-1600. To join the SunGrubbies.com affiliate program, go to http://bit.ly/ifRdrH. Be sure and visit the boutique showroom and hat shop if you live in the San Diego area or are planning visit.