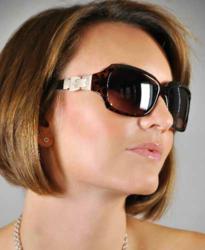 San Diego, CA (PRWEB) January 27, 2012
The addition of these seven different styles of imported sunglasses expands the array of sun protective products that SunGrubbies.com carries and continues the goal of SunGrubbies.com to help people enjoy a lifetime of good health by offering attractive and comfortable sun protective products that are of the highest quality and reliability at affordable prices.
It is important to protect eyes from damaging UV rays. UV rays and their reflection off surfaces such as water, sand, snow and even cement, can damage the eye and burn the front surface of the eye. Prolonged exposure to UV radiation can lead to crow's feet, cataracts and even skin cancer on the eyelids. UV protection can be achieved by wearing UV protective sunglasses with wide temple arms and a wide brim hat of at least three inches. This combination will block rays from entering from above and from the sides.
These new fashionable sunglasses now offered by SunGrubbies.com come in a variety of colors. They offer ultimate sun protection with their wide temple arms and polycarbonate lenses that will provide 100% protection from both UVA and UVB rays. Many styles come with attractive metallic, synthetic leather or rhinestone accents and even the added bonus of a carrying case and soft lens cleaning cloth.
SunGrubbies.com is a Southern California based company that has a range of stylish, as well as, comfortable sun protection products that are designed to offer the best protection against dangerous UV rays. SunGrubbies.com has products that have been approved and recommended by the Skin Cancer Foundation, the Melanoma International Foundation and the Skin and Cancer Federation of Australia. Every product has been laboratory tested for their sun protective ability and every purchase is 100% guaranteed for satisfaction.
For more information about SunGrubbies.com and their sun protective products, check out their website at http://www.sungrubbies.com. They can also be reached at their toll free phone number (888) 970-1600. To join the SunGrubbies.com affiliate program, go to http://bit.ly/ifRdrH. Be sure and visit their boutique showroom and hat shop if you live in the San Diego area or are planning a visit.
###