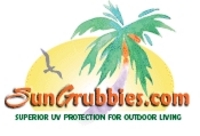 San Diego, CA (Vocus) November 3, 2010
What is the fastest way to ruin a fabulous cruise? Getting sunburn can certainly take away from all the fun one can have on a cruise. Sungrubbies.com, an online retailer of sun products, would like to remind travelers not to forget sun protection products as they head off on holiday cruises this winter.
No one plans on getting sunburn, but without adequate sun protection it will happen, and it can spoil a long anticipated trip. Winter is the time when UVB rays have lessened but UVA rays are still as strong as ever. Sun exposure on a cruise is also amplified by the reflection of the sun's rays off the water and the ship's reflective surfaces, making harmful UV rays more intense and dangerous to your skin. Additionally, if the cruise is heading north, remember that snow and glaciers will reflect the sun's rays too. If the destination is south, nearer the equator, the sun's rays will be considerably more intense. Travelers will want to make sure they are covered at all times, even in the shade. It's also important to remember that cool ocean breezes can disguise the intensity of these damaging rays.
SunGrubbies.com offers lightweight, packable UV protective essentials that travelers will want to include in their suitcases before embarking on a voyage:

A packable wide brim hat of at least 3 inches to provide protection for the head and neck.
Ultra lightweight and wrinkle resistant sun protective clothing that will pack small and protect arms and legs and torso. Many of the items can be worn on land and in the water for maximum versatility. Unique, stay-cool designs, such as mesh vents under the arms of a long sleeve shirt, are a real plus in hot, sunny weather. Many options also come with security pockets.
UV protective sunglasses to protect against reflection and glare.
Broad spectrum sunscreen to be applied and reapplied. SunGrubbies.com has gone to all natural sunscreens that contain antioxidants. They will protect not only your health but also the coral reefs and marine life.
A Sun Umbrella that will protect against sun and rain…and keep you cooler in warm climates. Some of the umbrellas have wind venting that makes them easier to use on deck.
So pack smart! Sungrubbies.com has products that have been selected for style, comfort, versatility, and practicality. Versatile UV protective outfits, such a Swimsuit Cover-up that can be also worn as a jacket for a stroll around the deck. And be sure to include the indispensable Sun Umbrella that will double as shade protection as well as protection from the rain.
SunGrubbies.com has been specializing in sun protection for over thirteen years. All products are laboratory tested for their sun protective ability and many are recommended and approved by the Skin Cancer Foundation, the Melanoma International Foundation and the Skin and Cancer Federation of Australia. And, every purchase is 100% guaranteed.
For more information, check out the SunGrubbies.com website, http://www.sungrubbies.com, to find sun protective products, information and safety articles. They can also be reached toll free at 888-970-1600. Be sure to visit the boutique showroom if you happen to be in the San Diego area.
###