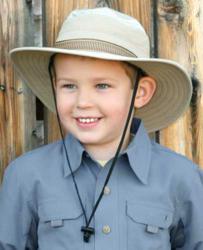 The UVA's and B's of Sun Protection: A Parents Guide to Sun Safety
San Diego, CA (PRWEB) July 19, 2011
More than half of an individual's sun exposure occurs during childhood and adolescence. According to the American Academy of Dermatology (ADD), approximately one out of every five children in the United states will grow up to have some form of skin cancer. Excessive sun exposure during childhood and adolescence increases the risk of skin cancer and premature aging so it is never too early to be proactive about sun protection.
While UVB radiation will lessen in the winter, right now both UVB and UVA are in full force. UVA penetrates the skin the deepest and the intensity of the rays are constant throughout the day and all year long. Damage from these rays can occur without the warning sign of sunburn. UVB is called the sunburn ray and it targets the top layer of the skin. Its strength is determined by the time of day, mid-day being the strongest. UVB is the main culprit behind sunburn. UVA is considered the main cause of premature aging. Both types cause cancer.
Sun safety should be practiced daily. Children should start a year round regimen in order to reduce their risk of developing skin cancer later in life. Parents should learn how to protect their children and teach them to protect themselves. Here are a few simple rules:

Arrange a schedule that minimizes exposure to UV rays between 10 am to 4 pm. This is when the burning rays are the most dangerous, especially during the summer.
Seek shade. It can be impossible to restrict children to the indoors, so if they do play outside make sure it is in a shaded area.
Use a broad spectrum sunscreen on children to screen against both UVA and UVB rays. Make sure to generously apply it to the skin 30 minutes before sun exposure and to reapply every two to three hours.
Keep babies under six months of age out of the direct sunlight. Seek shade and cover infants with sun protective clothing including a hat and socks.
Wear sun protective clothing and hats have a built-in UPF (ultraviolet protection factor). The UPF will reveal how well they block the sun's rays. Anywhere from thirty to fifty is considered excellent in protection.
Wear wraparound sunglasses. UV rays can cause cataracts later on in life. Parents should look for a pair that protects 90 to 100 percent of both UVA and UVB rays.
SunGrubbies.com has products that have been approved and recommended by the Skin Cancer Foundation, the Melanoma International Foundation and the Skin and Cancer Federation of Australia. Every product has been laboratory tested for their sun protective ability and every purchase is 100% guaranteed for satisfaction.
For more information about SunGrubbies.com and their sun protective products, check out their website at http://www.sungrubbies.com. They can be reached at their toll free phone number (888)970-1600. To join the SunGrubbies.com affiliate program, go to http://bit.ly/ifRDrH. Check them out on Facebook. Their boutiques showroom and hat shop is now open. Please call for showroom and hat shop hours.
###