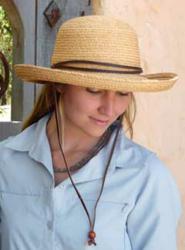 Sun protection is important and a fashionable sun hat makes a great Mother's Day present.
San Diego, CA (PRWEB) May 01, 2012
Mother's Day is the perfect time to give a gift of sun protection from SunGrubbies.com to the person who always thinks of others first. And, one thing every mother wants is to look younger than her age. In the battle against aging, sun protection is the first line of defense.
Mothers tend to put themselves at the end of the receiving line, always making sure that others have what they need before thinking of themselves. In regard to sun protection, the last drops in the sunscreen bottle will go on someone else's skin and the sun hat will go on someone else's head before a mother will think of what protection she needs.
Now that spring is here, warmer weather and longer days translate into increased sun exposure.
Excessive ultraviolet (UV) radiation can accelerate premature aging and cause skin cancer.
Sun damage occurs over a long period of time and the problems associated with it can take years to develop. Deep wrinkles and unsightly age spots are signs of too much time spent outdoors without an adequate UV barrier.
Outward appearances are not the only reason to cover up. The dangers of UV rays can go below the surface. Skin cancer is the most common form of cancer in the United States and over 90% of skin cancers are caused by excessive exposure to the sun's damaging rays. Skin cancer has been dramatically rising, especially among people under the age of 40. Incidences of melanoma are escalating with young women being the hardest hit. Many speculate that indoor tanning salons are the culprit in this rising trend.
Sun protection is important and a fashionable sun hat makes a great Mother's Day present. To celebrate this wonderful day, SunGrubbies.com will be offering free shipping on orders over 30 dollars. This special offer runs May 1st through May 10th.
Sun Grubbies.com and been an e-retailer providing sun protective clothing and accessories to sun lovers for over 14 years. Their goal is to help people enjoy a lifetime of good health by offering attractive and comfortable sun protective clothing and accessories of the highest quality and reliability at affordable prices. All of their products have been laboratory tested for their sun protective quality and many of their products are recommended an approved by The Skin Cancer Foundation, the Melanoma International foundation and the Skin and Cancer Federation of Australia.
Every purchase is 100 percent guaranteed for satisfaction.
Visit http://www.sungrubbies.com for more information about sun protective products. They can also be reached toll free (888)970-1600. To join the SunGrubbies.com affiliate program, go to http://bit.ly/ifRdrH. The boutique showroom and hat shop in San Diego is now open to the public Tuesdays through Thursdays 10:00 A.M. to 3:00 P.M.