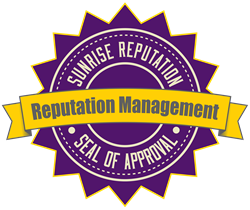 (PRWEB) September 01, 2014
Union representatives face very unique challenges due to the nature of their position. Union representatives are often placed in adversarial roles which can cause a great deal of contention between all of the parties involved, and whenever there is contention there is the potential for spiteful and malicious behavior to take place. There have been many instances in which a union representative has had to deal with inaccurate, misleading or patently false information being released through a variety of mediums that include the Internet. Due to the fact that this situation is relatively commonplace, reputation management firm Sunrise Reputation has announced that they are introducing specialized services that are specifically designed for union representatives.
Through the release of these services, Sunrise Reputation believes that they will be able to help any union representative that is experiencing the negative impact caused by the presence of a poor online reputation. The reputation management firm has represented a number of clients in this position in the past, and as a result of this experience they have been able to develop and implement a number of very successful strategies for the issues that commonly arise in these circumstances.
"We have a very clear understanding of the many issues and challenges that union representatives must face during the normal course of their duties," said Brandon Hopkins of Sunrise Reputation. "It is very unfortunate that many union representatives are targeted and must face the additional challenge of dealing with a negative online presence. With the development of these new services, we feel that we will be able to achieve very effective results for our clients in a short amount of time."
The company does indeed have a long track record of successful reputation management campaigns, and there have been a number of union representatives in particular that have benefited from the company's services. Sunrise Reputation has been recognized time and again as one of the most successful and experienced reputation management firms nationwide, and their clients have experienced consistently positive outcomes through the use of the company's many varied services. The release of these new services designed specifically for union representatives should help the company achieve even greater results for future clients that are facing the difficult circumstances that accompany a negative online presence.
Sunrise Reputation
Sunrise Reputation was founded with one goal in mind: helping businesses and individuals clean up and maintain a positive online reputation. Sunrise Reputation is an experienced reputation management company that specializes in public relations, marketing, media management, press releases, search engine optimization (SEO) and link building. For more information about Sunrise Reputation or how the company can help you with a reputation problem contact them by phone at 559-871-1613, email brandonchopkins(at)gmail(dot)com, or online at SunriseReputation.com.