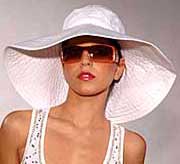 At SunGrubbies.com looking good and being sun protected go hand-in-hand.
San Diego, CA (Vocus/PRWEB) February 22, 2011
In the coming months thousands of young people will escape to warm locales to bask in the sun and enjoy the annual rite of spring break. SunGrubbies.com, an online retailer of sun protection products since 1997 would like to remind spring break revelers that time spent outside requires sun protection. Time is not the skin's greatest enemy; the sun is. And, let's face it; there is nothing less fun than nursing a nasty sunburn in a hotel room while everyone else is out partying.
Little or no sun protection can lead to a bad sunburn and with that comes pain, swelling and blisters… not a pretty look for a night on the town.
With a spring break filled with wild nights in mind, here are some simple rules for staying safe-under-the-sun during the day:

To keep skin young and lessen the chance of sunburn, be sure to pack a broad-spectrum sunscreen with an SPF of at least 15 to protect against UV radiation and then be sure to apply and re-apply it throughout the day.
Limit the time spent outside and try and stay out of the sun between 10 am and 4 pm. This is when the sun's UVB rays are at their strongest.
Do not rely on just sunscreen for protection. Fashionable sun protective clothing that is stylish and form-fitting will protect arms, legs and hands for all day outdoor fun.
Seek shade when possible. Reflective rays will still find their way to do damage, so do not be fooled into thinking sun protection is not needed under an umbrella.
Wear a hat with a brim of at least three inches to cover the face, neck and give total scalp protection. Rule–of-thumb: the larger of brim, the more sun protection for the head.
Wear sunglasses that block both UVA and UVB radiation. Choosing a wraparound pair with a wide ear piece will give added protection for the crow's feet area of the eyes.
At SunGrubbies.com looking good and being sun protected go hand-in-hand. There are fabulous, sun safe outdoor fashions that offer excellent sun protection. A sexy form-fitting Princess Swimsuit will work great as an additional swimsuit to take along. The chic Bella or Ribbon Braid sun hat will keep the face from blistering from the sun. A Crystal Tee will show off those curves and work great as a cover-up. And, what could be more fun on spring break than Tattooed Sun Sleeves. UV rays fade real tattoos. Wearing Tattooed Sun Sleeves will help keep real tattoos protected, and still create a tattooed look.
A natural sunscreen is a great choice for sun protection especially for those who are eco-conscience. SunGrubbies.com carries a wide assortment of natural sunscreens. MelanSol, for example, is made with green tea and vitamin E and is a great sunscreen for under make-up as well as the body and does not irritate sensitive skin.
For over thirteen years, SunGrubbies.com has been offering sun protective products that have been rated by an independent laboratory for UV blocking ability. Many of their products have been recommended and approved by The Skin Cancer Foundation, the Melanoma International Foundation and the Skin and Cancer Federation of Australia. And SunGrubbies.com wants every customer to be pleased, so every purchase is 100% guaranteed.
For more information about SunGrubbies.com, their products and to read sun safety articles, check out their website at http://www.sungrubbies.com. They can also be reached by calling toll free phone number (888) 970-1600. To join the SunGrubbies affiliate program, go to http://bit.ly/ifRDrH. Be sure and visit their boutique showroom and hat shop if you live in the San Diego area or are planning a visit.
# # #