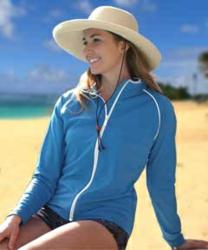 A tropical get-a-way is a great way to banish the winter blues.
San Diego, CA (Vocus/PRWEB) January 27, 2011
A tropical get-a-way is a great way to banish the winter blues. But, before the last bag is snapped shut, make sure a sun protection plan is in place. Winter get-a-ways near the equator experience more intense UV exposure and that exposure will be amplified by reflective surfaces like sand and water. And, there is no faster way to ruin a fabulous vacation than by getting a nasty sunburn. A visit to Sungrubbies.com, an online retailer specializing in sun protection since 1997, is a must before departing for the sunny south.
Since most of the vacation time will be spent outdoors, packable UV protective products are important and every vacationer will want to pack the following:

Broad spectrum sunscreen. Sunscreen needs to be applied and reapplied from morning until evening. SunGrubbies.com has natural, non-chemical sunscreens that contain antioxidants. Antioxidants help minimize sun damage by neutralizing dangerous free radicals created by UV rays. A few places not to forget: eyelids, tops of feet, under straps, ears and lips.
A packable wide brim hat of at least 3 inches will protect the face, head and neck. Leave behind the loose weave straw hat since it will allow UV rays to pass through, burning the face and scalp
A Sun Umbrella will create instant shade and keep the temperatures feeling up to 10 degrees cooler. A definite plus in hot, humid climates
UV protective sunglasses to protect the eyes from glare and the delicate eyelid skin around the eyes. Broad temple arms will also help keep the sun's rays damaging the crow's feet area of the eyes.
Sun Protective clothing and swimwear that will keep dangerous rays from penetrating the skin.
Sunsleeves, a unique sun protection design, protects exposed arms and hands when wearing anything short sleeved. Sunsleeves are perfect when driving and are very easy to pull on and off.
Sun Gloves, another unique design for sun protection, prevent cumulative sun damage on the hands. When wet, sun gloves provide evaporative cooling to help keep the body more comfortable. An added bonus.
So escape the cold, but be sun smart and safe. Make a plan to keep skin protected from UV radiation and it will be possible to enjoy the sun and return from a tropical get-a-way with fond memories and not sun damaged skin.
SunGrubbies.com has been specializing in sun protection for over thirteen years. All products are laboratory tested for their sun protective ability and many are recommended and approved by the Skin Cancer Foundation, the Melanoma International Foundation and the Skin and Cancer Federation of Australia. Every purchase is 100% guaranteed.
For more information about SunGrubbies.com and their products, check out their website at http://www.sungrubbies.com. They can also be reached toll free at 888-970-1600. To join the SunGrubbies.com affiliate program, go to http://bit.ly/ifRDrH. And, if you are in the San Diego area be sure and visit their boutique-style showroom and hat shop.
###