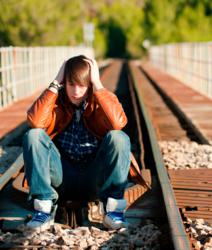 According to TeenDepression.org, less than 30 percent of teens with depression seek help, and adolescents are especially unlikely to seek it.
San Diego, CA (PRWEB) January 27, 2012
Sunset Bay Academy reports that high school students are taking on teen depression in an innovative way. They're not asking people to come forth and share stories. They're not holding seminars. They're making a movie.
According to the Bangor Daily News, high school students from Hermon, Main are currently developing a short film written and directed by one of their own, Faith Bishop. The film is part of Project Aware, which seeks to empower teens to talk about and tackle "teen-related issues such as substance abuse, bullying, sexual orientation, difficult home environments and more." The story deals with one student who writes an anonymous blog about her depression, but is then exposed and must deal with the social stigma. Another student must contend with his older sister being deployed overseas. The film is being created almost exclusively by high school students, who are also filming in their own campus.
While this approach to discussions on teen depression may seem like an overtly complicated way to getting a film into the hands of educators, it's actually a highly effective method. Students are not just being handed a film to watch. It's a film made and written by other teens. For the teens with depression, though, the experience will be therapeutic.
An old joke says public speaking is one of the most common fears in the United States. The second most common fear is death, and so the joke says that most people would rather be in the coffin than giving the eulogy. Although dark, the joke does reflect an ugly truth about depression.
According to the Teen Depression website, less than 30 percent of teens with depression seek help, and adolescents are especially unlikely to seek it. Roughly 1 in 5 teens will suffer depression before adulthood, and 8.3% of teens are currently suffering depression compared to 5.3% of the general population. Put this together with a teen's unbalanced hormones and the pressures of school, home life, and possibly employment, and we have a recipe for disaster.
However, the students across the nation are using a very effective method of coping with tragedy and depression. They are addressing it, but in a roundabout way. They are portraying fictional characters. Sometimes, talking or expressing through a surrogate is the best thing to do. One can be self-conscious or fear embarrassment at exposing one's own perceived weakness. Teens in a social structure where cliques and popularity can make or break reputations can benefit greatly from such a system of self-expression.
Taking art classes as a method against depression, theater, or any hobby where teens don't feel like they are exposing themselves is a great way to get them to feel productive and get their ideas out in a coherent, thought-out manner. Of course, this then means that teens have to be comfortable enough perform in front of a crowd or receive critiques for their work. This is, however, much easier than trying to convince a teen to talk about his or her depression.
One of the hardest things for a teen is to talk about feelings. Art, the very act of creation, however, lets them say something without feeling like they are exposing themselves. It's still difficult, but it's much easier than talking. Whether they realize it or not, the high school art students like Faith Bishop are setting an example by creating their short film.
There are many things parents can do to help teens, but a professional screening and therapy can also be the best solution. Sunset Bay Academy can help by providing the necessary tools and guidance to both parents and teens to work with depression. The Academy has highly-qualified professionals who can work with teens and guide parents to making the right choices.
About Sunset Bay Academy
A Full Service Co-ed Therapeutic Boarding School, helping troubled teens ages 12-17 appreciate their second chance at a new life with strong family values in a structured and supportive environment.
# # #