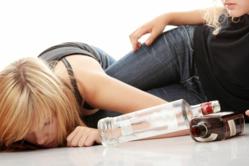 Teens that drank with adults, regardless of country, were more likely to drink in all situations and more inclined to experience harmful alcohol related consequences. East Cobb.
San Diego, CA (PRWEB) January 30, 2012
Parents host parties for their teens so said adolescents can drink at home. The rationale is that such gatherings can keep kids from being reckless on the streets. On the surface, this actions seem logical. Parents are taking responsibility and containing a problem, but law enforcement and recent incidents show this may be one of the worst things parents can do.
A recent article in The Wall Street Journal talks about a Stanford University professor named Bill Burnett who allowed his teenage son to host a party at the Burnett's home. While Burnett and his wife both claim they were upstairs when the party was underway in the basement, police took the elder Burnett in and he "spent a night in jail and was booked on 44 counts of suspicion of contributing to the delinquency of a minor. Each misdemeanor count carries up to a $2,500 fine and nearly a year in jail."
The Trib Local reported that in Chicago two parents, William and Kimberly Opferman, were arrested but later released when police found 25 to 30 teens at their home, and most admitted to having drunk on the premises. One teen, according to authorities, was "highly intoxicated."
These incidents should wake parents up. Trying to contain underage drinking like this, shouldering the responsibility for teens, actually does more harm to everyone involved. The reality is that such parties make it seem to teens that underage drinking is permissible under the proper circumstances.
According to the teen alcohol usage statistics provided by the "Students Against Destructive Decisions" (SADD), during the last month one quarter of all teens drank alcohol. The website East Cobb Patch reports that "several studies conducted with teens from Australia, France and the U.S. found teens that drank with adults, regardless of country, were more likely to drink in all situations and more inclined to experience harmful alcohol related consequences." This means that teens that may already be at risk for underage drinking due to depression, family history, or other factors could be pushed to drink and make a bad situation worse.
Law enforcement is cracking down on underage drinking across the country, and since parents host the parties, they are the ones punished, not the teens. "Young adults between the ages of 16 and 24 are responsible for almost half of the alcohol consumption in this country," says Monheit Law.
It is one thing to expect teens will break the rules. Every teen will get into trouble to a certain extent, but hosting parties and allowing alcohol for underage drinkers is a terrible strategy. Parents want to think they can control their teens, and that they know what's best for their own children, but recent incidents and data say that people don't always do what's best. It's a difficult idea to accept, but it is one parents across the nation have to believe if they want to actually help the country's youth.
Teen drinking can then spiral out of control. While parents think they are helping, they could be contributing to dependency. In Therapeutic Boarding Schools like Sunset Bay Academy, parents can find the help they need to deal with this kind of addiction. Counseling, screening programs and classes can help parents understand the problem and can get teens that fall through the cracks a second chance at regaining their lives.
About Sunset Bay Academy
A Full Service Co-ed Therapeutic Boarding School, helping troubled teens ages 12-17 appreciate their second chance at a new life with strong family values in a structured and supportive environment.
###