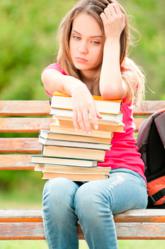 Suicide is the third leading cause of death for people between the ages of 15 and 24.
San Diego, CA (PRWEB) January 25, 2012
The internet allows anyone and everyone to have a voice in the global community. It's both a blessing and a curse that anyone can be so utterly connected to people that may never meet face-to-face. Facebook and YouTube, while allowing its users to stay in touch with friends and family, have also become infamous for letting teens post embarrassing videos and pictures of themselves that eventually haunt them. One teen took YouTube and turned it into a haunting yet beautiful call for depressed teens everywhere.
Her name is Katie, and her video contains no sound except the song, "If I Die Young," by The Band Perry. Katie is fifteen years old and smiles the whole time, a genuine smile, as she holds up pieces of paper with short phrases that serve as her dialogue. She introduces herself as "the strongest girl" her friends know. Through all this, Katie seems confused as to why her friends would think that. Then, she reveals her secret, nearly breaking her smile as she puts up the next series of cards:
"You're probably wondering why people say that about me. Ok… Well, on October 5th, 2011 my mom died. I found her in the woods, hanging. She committed suicide. My mom was a beautiful woman, see?"
Katie then shows a picture of her mom, a beautiful young woman, and continues, "You're probably wondering why I'm smiling instead of crying. It's because my mom would want me to be happy. She loved seeing me smile."
Throughout everything, she keeps smiling although she looks ready to cry at any moment, but she remains strong and finishes by saying, "Life gets better. I promise. I'm also here if you need to talk. Thanks for watching. I love you."
Katie should be the poster child for teen depression. She is young and has undergone a traumatic event, something that would haunt mostly anyone for the rest of their lives. Suicides also tend to ripple and chain-reaction, prompting others to commit suicide as well. Katie herself is very vulnerable to this. Suicide is the third leading cause of death for people between the ages of 15 and 24. Situational stress is also a contributing factor to teen suicide.
A cynic might look at Katie and see a teen diluted into simply ignoring her pain and loss, but she can serve as an example to many teens facing depression and thinking about suicide. Teen suicide rates dropped for several years but have increased in the last ten. Having the right attitude, wanting to change and get better, is fundamentally important to help a teen fight depression, suicidal thoughts, and almost everything else from drug addiction to a host of other problems. Katie shows the kind of maturity and drive that will eventually help her fully cope with her own tragedy and serve as an example to others.
Suicidal thoughts and depression can affect teens, but even with the right attitude, proper screening and professional help is always encouraged. In Therapeutic Boarding Schools like Sunset Bay Academy parents can find the help they need to deal with teen depression and suicidal thoughts. The right attitude and role-models are a good start, but Sunset bay Academy can help get you and your teen on the right path.
About Sunset Bay Academy
A Full Service Co-ed Therapeutic Boarding School, helping troubled teens ages 12-17 appreciate their second chance at a new life with strong family values in a structured and supportive environment.
# # #