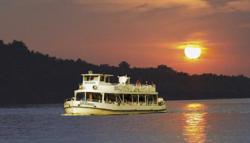 Kick back, relax and enjoy great food and spectacular scenery after a fun-filled day in the Dells.
Wisconsin Dells, Wis. (PRWEB) June 26, 2013
Wisconsin Dells at dusk tenders stunning sun-lit views of the towering river bluffs found only on Dells Boat Tours' Sunset Dinner Cruise. This summer visitors can steal away for a scenic nightcap with expanded cruise offerings seven nights a week during the peak summer season.
"Our Sunset Dinner Cruise continues to be very popular with visitors who want to kick back, relax and enjoy great food and spectacular scenery after a fun-filled day in the Dells," said Dan Gavinski, general manager of Dells Boat Tours.
Sunset Dinner Cruises will now depart nightly from July 1 through August 21, the peak vacation weeks of the summer.
The popular excursion travels on the Upper Dells of the Wisconsin River, which showcases some of the most dramatic sandstone cliffs of the region. This stunning scenery is what first drew tourists to the Dells more than 150 years ago. Along the 2¼-hour tour, boat pilots and guides weave in some brief narration about the breathtaking views and history of the region.
As night falls, the Sunset Dinner Cruise makes a stop at the mysterious Witches Gulch shorelanding. Torches light the boardwalk that winds deep into the glen. Guests can disembark and take a leisurely stroll into the peaceful, shady gorge.
Not to be upstaged by the warm scenery, is the delectable cuisine prepared by the chefs of Chula Vista Resort. Passengers are treated to a tasty surf n' turf dinner buffet. The main entrée includes a 6-ounce sirloin and a 3- to 4-ounce lobster tail served with roasted red potatoes and chef's choice of market fresh vegetable. Sunset cruise passengers can enjoy a mixed greens and romaine salad tossed with dressing and house-made croutons. The meal is topped off with a gourmet dessert. An assortment of beverages is included and a cash bar is available for cocktails.
Along with the fine food and magnificent scenery, guests also get a hefty helping of live musical entertainment. Well-known regional favorite, Dan Soma, serenades guests with his musical talents: singing while playing guitar and harmonica. A riverboat pilot himself for many years, Soma is very knowledgeable about life on the water. His music features a variety of genres and is appealing to all ages.
Sunset Dinner Cruises depart from the Upper Dells boat dock in downtown Wisconsin Dells. A select summer schedule began Memorial Day Weekend, but the nightly tours run July 1 through August 21, with additional weekends in late August and early September. Call for departure dates and times, or visit Dells Boat Tours online for a complete schedule.
Tickets are $49.00 for adults (ages 12 and older) and $36.00 for children ages 4 to 11. Children ages three and younger are free without a meal. Reservations are required for the all-ages cruise and can be made by calling (608) 254-8555, or by visiting one of the several in-area ticket booths when you arrive in Wisconsin Dells.
For over 150 years, Dells Boat Tours have delighted travelers and are a main attraction of Wisconsin Dells. Various tour options allow for all ages and interests to have the opportunity to explore the Dells by water. The tours run on a 7½-mile stretch of the Wisconsin River giving vacationers an up-close view of the rocky cliffs that are the signature of Wisconsin Dells. To make reservations and for more information, please call (608) 254-8555, or visit http://www.dellsboats.com.