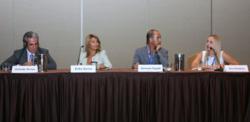 To last July, the demand on the United States "was the highest in history, with more than 100 million nights booked".
Cancun, Mexico (PRWEB) November 16, 2012
The Sunset World Resort & Vacation Experiences hotel chain presented its success case in the Mexican Caribbean on the Share Ownership Investment Conference (SOIC). This event congregates the main investors in vacation clubs from around the world, an industry that generates an annual economic impact of 118 billion dollars.
Last month, Interval International invited the President of Sunset World Resort & Vacation Experiences, Mr. Orlando Arroyo Marroquín, to participate on the annual encounter of SOIC. During his intervention, Mr. Arroyo pointed out the growth this company has made on the last two decades on Cancun and Riviera Maya to become one of the leading companies on the vacation club's share on the Mexican Caribbean. The company presently owns 6 hotels, 1,200 suites and 39 Restaurant-Bars.
Accompanied by the Marketing Director 4 Sunset Group, Erika García, Sunset World's CEO, German Fayad and Ana Kiseleva, Marketing Customer Services, 4 Sunset Group. Mr. Arroyo concentrated his participation on the way they re-positioned the Hotel Carrousel in Cancun. This 3-stars hotel was built on 1978, until it was transformed in the 5-stars Ocean Spa Hotel, through the feedback of its visitors, 22 new marketing programs and the training of its 154 collaborators.
"Selling the destination and vacation experiences, instead of just the brand, along with a training program for the staff, has given us very good results", said Arroyo Marroquín, who also pointed out that the scores for the group on Tripadvisor went up and the sales up to September were around 25 million, beating last year's income.
Sunset World Resorts & Vacations Experiences, invested 5 million dollars on different improvements like the remodeling of Ocean Spa, that offers a health and well-being concept; a new sales room, a wine cellar with more than 350 wines and 53 kinds of grapes, the opening of restaurants of Italian cuisine and oven-baked pizzas and the renovation of its gastronomical centers for International, Asian and Mexican food.
On this business meeting, that took place in Orlando, Florida, it was emphasized that the vacation club's sector is formed by more than 5,325 resorts on 106 countries, with annual sales of more than 14 billion dollars, a 76% average occupation and it offers 473 thousand jobs.
"The Vacation Club Industry has been recovering and maintains high satisfaction levels on its owners, since the benefits have improved and developers have centered their efforts on a more effective commercialization and better sales methods", said Howard Nusbaum, president of the American Resort Development Association (ARDA).
Accordingly, Vail, Brown, vice-president of Smith Travel Research, reported a growth on Revpar (income for available room). To last July, the demand on the United States "was the highest in history, with more than 100 million nights booked".
The Sunset World group is formed by more than 20 tourist services companies, among them, its hotels Sunset Royal, Sunset Marina Resort & Yacht Club, Sunset Fishermen, Ocean Spa Hotel, Laguna Suites Golf + Spa and Hacienda Tres Rios Resort, Spa & Nature Park, which offers, among other things, a 132-hectares natural park.
Other companies in the group are: Sunset Admiral Yacht Club & Marina, Hacienda Andalucia, Royal rent-a-car, Sunrise Travel Agency, Ya'ax Che Spa and Ethos, farm in the jungle.
Finally, Interval International, one of the organizers of this business meeting, operates affiliation programs for visitors, and provides value-added services to its customers, developers from all around the world. Based on Miami, Florida, the company has been a pioneer and an innovator of the vacation property market since 1976. Nowadays, Interval International offers high-quality products and benefits for tourist's complexes and approximately 2 million families, which are part of some kind of affiliation program.