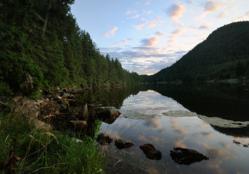 This affordable accommodation package offers a unique ecological insight into the waters and history of BC's Sunshine Coast.
Pender Harbour, British Columbia (PRWEB) May 03, 2012
Moon Dance Vacation Rentals and Sakinaw Lake Lodge today announced their partnership in offering a combined accommodation getaway for shoulder seasons on BC's Sunshine Coast, bringing guests into two unique marine environments over a 4 night stay.
Moon Dance Cabin & Perch are located on the hillside of Oyster Bay, a long reach extending in from Pender Harbour. These tidal flats dry at low tide, and became known as Oyster Bay when a Vancouver doctor introduced a small type of oyster from Japan into the basin. There is still an operational oyster farm in the area. Visitors enjoy the two-in-one environments in this protected area. Every 6 hours a tidal change (alternating high and low tides, 4 in a 24 hour period) brings new shorebirds and wildlife. The architecturally designed Perch is located higher on the hillside and frames views of almost the entire bay and is often booked heavily in fall and spring 'storm' seasons. The more traditional cabin is located close to the water for an up-close vantage point for all of the senses - low tide offers the visitor a unique scent-based insight into coastal living.
In contrast, Sakinaw Lake Lodge offers a uniquely Sunshine Coast lakefront experience - the lake is actually stratified into two types of water. Freshwater, which is lighter and warmer, sits on top; at approximately 98 feet it turns to saltwater, telling the geological story of when Sakinaw was an inlet still connected to the Pacific Ocean. The 1,695-acre lake was dammed in the early 1900s, and still has an active salmon fishway for a fin-fish variety that includes cutthroat trout, coho, sockeye and land-locked kokanee salmon. Sakinaw Lake also plays a significant role in First Nations history of the region, with shell middens and pictographs in the area. It remains in the territory of the Sechelt First Nations - the Shishalh People - today.
Access to Moon Dance Vacation rentals is via the scenic Hwy. 101 which continues on through to end at the terminus in Lund north of Powell River (connected via a second ferry from Earls Cove to Saltery Bay), and this portion of the stay is independent and self-guided and close to the Iris Griffiths Field Interpretive Centre and the Skookumchuck Rapids tidal viewing hike. Guests also receive Artist Studio Gift Certificates; the owners of Moon Dance are art collectors and enjoy introducing guests to the proportionally extraordinary range of artists on the Sunshine Coast.
Sakinaw Lake Lodge offers a choice of accommodations from a top-level of the lakefront lodge, or the level floor, or guests may opt for a luxurious and more private tenthouse just around the point. The lodge is water access only, and the owners are the on-call chauffeurs for guests with a comfortable, flat-level on/off pontoon boat, and also take guests on a 3 hour luxury excursion exploring the lake's rich and storied history. Breakfasts at the Lodge are full-course specialties served in your accommodation or on the lakeside outdoor kitchen patio.
This partnered package is only available in the months of March-June and September/October and is based on double occupancy. The $890 getaway is $210 off normal rates.