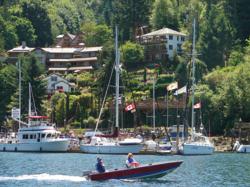 All you have to do is say to yourself, yes, I want to and I will succeed. We are here to help you make it happen.
Pender Harbour, Sunshine Coast British Columbia (PRWEB) April 26, 2013
Sunshine Coast Resort & Marina, located in Pender Harbour BC and just a 40-minute ferry ride and 45-minute drive from Vancouver, announces a new series of Fitness Holidays as part of their 2013 'Fitness Challenge'.
"A happy life evolves around your personal well-being. Your body feels good - you feel good. Your body is strong - your mind will be strong too," say Resort owners Ralph & Silke Linnmann. "A healthy lifestyle is one of the main contributors to a long and happy life."
Fitness Holidays at Sunshine Coast Resort run from three days to a week, and include certified instructors, personal trainer sessions, unlimited access to the nearby Pender Harbour Aquatic & Fitness Centre, yoga class, meal plan, and full-body in-room massage.
The goal of the Challenge is to work with each Sunshine Coast Fitness Holiday guest to determine their base fitness level, set goals and then establish a customized activity schedule and meal plan and oversee the beginnings so guests return home with a well-established routine to help them meet their own long-term goals.
Sunshine Coast Resort, a European-influenced multi-accommodation resort, is located on the waterfront of Pender Harbour, across from Mount Daniel. Guests can choose a standard hotel room or suite, penthouse suite, vacation cottage, or executive cottage/chalet, each with a unique views of the Harbour. Local pub-style restaurants are in walking or passenger ferry distance, along with fine dining in Madeira Park, which is also home to the local Music Society and several fine art galleries.
The Sunshine Coast is known for its small-town, rural feel and higher-than-average per capita ratio of artists and performers that combine with accessible waterfront - ocean and lake - and beautiful backcountry to create a unique vacation experience less than an hour from Vancouver.
Sunshine Coast Resort invites anyone interested in combining a signature BC vacation experience with the opportunity to reset body, mind and spirit to book a 3, 5 or 7 day Fitness Holiday by calling 1-888-883-9177.
"All you have to do is say to yourself, yes, I want to and I will succeed," says Ralph. "We are here to help you make it happen."