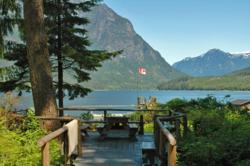 We couldn't imagine a resort in a tropical paradise that could hold a candle to here.
— Ron & Janice Bond
Winlock, AW
Sechelt, British Columbia (PRWEB) June 21, 2013
Tzoonie Outdoor Adventures is pleased to announce a new chef service for their boat-access only wilderness resort in Narrows Inlet, just 40 minutes from Sechelt on BC's Sunshine Coast.
Clams, oysters, mussels, crab and locally caught fish are likely to be on the menu, and Tzoonie's chef works with guests to prepare a menu to delight the palate, meet dietary restrictions, and save guests the trouble of shopping and lugging food. With the new All Inclusive Package rates, guests can enjoy world class meals, access to kayaks and canoes, and unlimited petting of boss pug, Molly.
Tzoonie has offered wilderness camp stays on the shore of Narrows Inlet for over twenty years, sharing their love of the Sunshine Coast with multiple generations. Located on the south side of Narrows Inlet ust before Tzoonie Narrows, a popular scuba diving and kayaking destination on BC's Sunshine Coast, the resort is situated for morning sunrises and evening sunsets while still offering shade during peak heat hours.
Guests stay in cabins, a platform tent, or beached houseboat, with accommodations for up to 16 just steps from the water. There is an on-site shower building running on solar heat, toilets (the real thing rather than standard pit toilets), outdoor covered kitchen and dining area, and two campfire areas - one near the kitchen and one on the beach perfect at sunset.
This Sunshine Coast wilderness resort offers an increasingly rare experience in BC - a true wild getaway still within hours of Vancouver offering views of Whistler area glaciers and a quiet and protected inlet with occasional working vessels for variety. Birdwatching, backcountry hiking, kayaking, swimming, fishing (saltwater bottom-fishing and estuary fly flishing, as well as bait-fishing off the dock for kids), shellfish gathering are all popular activities, and best of all, require no devices.
Tzoonie Outdoor Adventures has hosted small Sunshine Coast weddings, elopements, health retreats, yoga vacations, and family vacations, offering proximity to Vancouver and with included transportation for guests between Sechelt and the Resort.
Boat transportation, firewood, propane, fully outfitted kitchen, shellfish harvesting tools, and fantastic views are all included in the base rates; kayaks and canoes may be rented by the day. The Photo Gallery section shows the site, amenities, lodgings and wilderness environment.
"Thanks for the fantastic hospitality, the peace, quiet and tranquility here is unbelievable. Can't recommend you highly enough!" — Simon and Christine, U.K.
Tzoonie Outdoor Adventures offers on-demand vacations with chef services June through September 4. Special arrangements are available for September 4-30 upon inquiry.