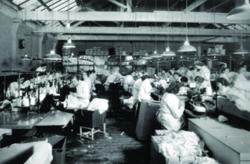 Sunspel New Store, Old History.
Sunspel are offering an 18.60% discount
40 Old Compton Street, London W1 (PRWEB UK) 25 November 2011
To celebrate the opening of their innovative new shop this autumn in Soho's Old Compton Street, Sunspel are offering an 18.60% discount (a nod to their year of inception) on the weekend, starting Friday the 25th of November until the end of business on Monday the 28th November 2011.
The shop will showcase the full collection of Sunspel underwear, t-shirts, polo shirts and knitwear, as well as introducing exclusive products that will be solely available from the Soho store.
One key innovation is the launch of Sunspel Handcrafted – a bespoke service that has evolved out of Sunspel's goal of providing each customer with the perfect t-shirt. Customers will be able to design their own Sunspel t-shirt to their own specifications.
Virtually every element of the handcrafted tee is customisable – customers will be able to select from different cuts and fits, a wide colour palette drawn from the 150-year Sunspel archive, and other styling details. The unique t-shirt will then be made by hand at Sunspel's factory at Long Eaton, near Nottingham.
Sunspel's pursuit of superbly crafted clothing, using a mix of traditional techniques and contemporary innovations, is reflected in the attention that has been paid to every detail of the new store's refurbishment. Reclaimed Victorian flooring and exposed original support beams are juxtaposed with contemporary materials including Lino, stainless steel surfaces, exposed plaster-work and polished concrete.
###