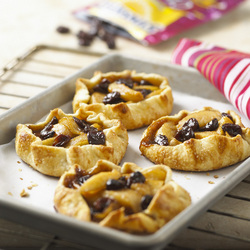 Yuba City, CA (PRWEB) November 25, 2008
This holiday, give the gift of health and start a new tradition at the table by serving healthy renditions of the season's favorite dishes. With the new holiday recipes from Sunsweet, it's easy to prepare great-tasting, nutrient rich dishes that are sure to become holiday classics. A Blueberry Biscotti rich in antioxidants and a Fudgy Chocolate Cake full of fiber and low in fat are just two of the new, delicious and healthy recipes from Sunsweet this holiday season.
The Berry Chutney Torte, a visually stunning appetizer, includes Sunsweet Premium Varietal Berry Blend - a mix of wild blueberries, Bing cherries, raspberries, cranberries and red tart cherries. These ingredients are big on flavor and are packed full of powerful antioxidants. Or, for an entrée, try the Mango Ginger Sauce atop a succulent ham on your holiday table. One serving of the sauce is an excellent source of vitamin C and vitamin A.
All these recipes and more are available at http://www.sunsweet.com/recipes. Below is the recipe for Cherry-Pear Gallette, a long-time culinary tradition of presenting individual tarts to guests on New Year's Eve. This version features Sunsweet Premium Varietal Dried Cherries and is full of antioxidants, which studies suggest may reduce risk factors for heart disease.
Cherry-Pear Gallette
Prep time: 20 minutes
Cook time: about 25 minutes
1/2 cup brown sugar
1 teaspoon cinnamon
3 ripe but firm pears, peeled, cored and sliced
2 teaspoons cornstarch
1 (5 ounce) bag Sunsweet Premium Varietal Dried Cherries
Pastry dough for 1 pie crust (such as Pillsbury Refrigerated Pie Crust)
Beaten egg and coarse sugar (optional)
Stir brown sugar and cinnamon together in a large bowl; add pear slices and toss until coated with mixture. Spray a large nonstick skillet with cooking spray and place over high heat. When very hot, add pears and cook, stirring frequently, for 2 to 4 minutes or until brown sugar has turned thick and syrupy. Transfer back to bowl and stir in cornstarch and cherries. Roll dough into 6 equal balls. Roll each ball into a 6-inch circle on a lightly floured board. Place equal amounts of fruit in the center of each and bring the edges up to form a shell. Pinch lightly to secure dough around fruit. Brush with egg and sprinkle with coarse sugar, if desired. Bake on a parchment-lined baking sheet for 20 minutes or until crust is golden brown. Best served warm. Makes 6 servings.
About Sunsweet Growers, Inc.
Headquartered in Yuba City, Calif., Sunsweet Growers, Inc. is one of the world's largest handlers of dried fruits including dried plums, apricots, cranberries and raisins. A grower-owned marketing cooperative, Sunsweet provides one-third of the world's dried plums. The Sunsweet brand is widely recognized as representing products that promote a healthy lifestyle for today's consumer.
###