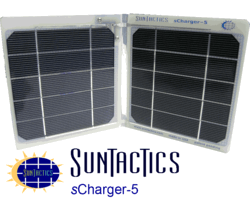 One of the 10 Best Eco-Inventions of 2010
(PRWEB) June 01, 2011
Suntactics is now shipping to customers the sCharger-5 that is in full production at Fastrak Manufacturing, a veteran owned small business located in San Jose, CA. Dean Salas, COO, said "The sCharger-5 solar charger has as a new stylish blue cover that was recommended by our customers and the same high performance as the previous PC5."
The name change from PC5 to sCharger-5 highlights the importance of solar energy in today's environmentally friendly consumer environment. Green inventions, like the sCharger-5, have been driven by market demand for products that enhance efficiency and reduce pollution. That is why Suntactics was recognized as one of the 10 Best Eco-Inventions of 2010 by The Green Market, one of the Web's most comprehensive resources on the business of the environment.
Our customers have been supportive in their product reviews because they want others to know about our dependable hassle free solution to solar charging needs.
"This charger solves the problem of small solar. It provides more power than any other solar chargers I have seen. It is a very well made unit, not cheaply made at all. I no longer lose my phone charge on long camping trips."
"Simply plug your USB cable into the charger and your Ipad2 or Iphone and your mobile device will be charged. I like the size, weight and simplicity of this charger. The charger sends the charge directly to the Ipad2 or Iphone, not to an internal battery in the charger."
"It worked flawlessly. It actually seems to charge my Droid X at about the same rate as my AC charger, and my ipod faster than the battery operated speaker I use at home. It works great for charging my kindle too. I just open it up, set it in the sun and connect whatever I need to charge."
"This solar charger is a must have for people on the go. I have used it for my cell phone, and my Nintendo DSI when I haven't had any way to charge them. I would recommend it for those that like to hike, boaters, campers or hunters. It is a great device to have in an emergency situation. I will be purchasing another to give the grandchildren for their game devices and eReaders. The best part is it is light weight, compact, and pretty darn indestructible. Great product that I will recommend to all my friends. I never leave home without it."
The remote device marketplace requires powerful solar chargers to provide both instant usage and charging. They want what Suntactics provides: "a highly reliable powerful solar charger that is simple to use and hassle free".
###