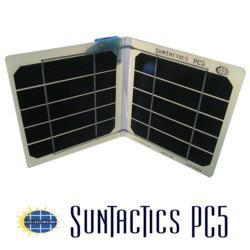 Customers demand a dependable and hassle free solution for their solar charging needs
San Jose (PRWEB) May 03, 2011
International Data Corporation's (IDC) most recent report says smartphone vendors will ship more than 450 million smartphones in 2011 compared to 303 last year. Demand for accessories like Solar Chargers for smartphones and other remote devices is driven by the need to expand their usage since everyone is becoming more dependent on remote device operating on a continuous basis. The demand for the Suntactics PC5 Solar Power Charger, for example, has been so high that Suntactics has had to expand their production capability to meet current and future demand.
Suntactics has just completed the transition of the PC5 to full production at Fastrak Manufacturing, a veteran owned small business located in San Jose, CA. While Suntactics focuses on research and development, product design, marketing, and customer service, Fastrak now builds and ships the PC5 product. This has enabled Suntactics to reduce shipment commitments from 4 weeks in April to less than a week in May in order to meet customer demand for the PC5.
Customers demand a dependable hassle free solution to their solar charging needs.
"Simply plug your USB cable into the charger and your Ipad2 or Iphone and your mobile device will be charged. I like the size, weight and simplicity of this charger. The charger sends the charge directly to the Ipad2 or Iphone, not to an internal battery in the charger."
"While heading out east for one trip, I was stuck at O'Hare airport for a few hours and couldn't find a free outlet near my gate, so I just took a seat near the window and charged in the sun. Every time I set it up I got comments and questions about the rig."
"It is the only way I charge my iPod now. I bought a CD case in and take this solar charger with me where ever I go. It is high powered and charges at the same rate as plugging into a wall socket. If a shadow or interruption stops the charge, it resets itself without having to unplug and replug it."
The remote device marketplace requires powerful solar chargers like the Suntactics PC5 to provide both instant usage and charging. Consumers want what the PC5 provides: "a highly reliable solar charger that is simple to use and hassle free".
Suntactics was recognized as one of the 10 Best Eco-Inventions of 2010 by The Green Market, one of the Web's most comprehensive resources on the business of the environment.
# # #