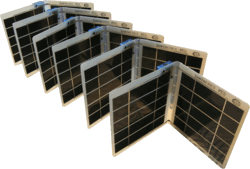 PC5 Solar Charger in Full Production
(Vocus/PRWEB) January 26, 2011
Suntactics has completed the transition of the PC5 to full production at D2 Solar, a US manufacturing company that specializes in taking solar cell technologies from the concept stage to fully qualified, commercial products. They are fully prepared to meet the rapidly expanding demand from global customers seeking a dependable hassle free solution to their solar charging needs.
Dean Sala, Suntactics COO, said customers are excited about the PC5, "This charger solves the problem of small solar. It provides more power than any other solar chargers I have seen. It is a very well made unit, not cheaply made at all." and "The charger works great, is compact and easy to carry/store and it's 'green'. What more could you ask for?"
Dean added, "The rapidly expanding demand created the need to move production to a company like US based D2 Solar." "I am pleased to be working with Suntactics," said Duncan Harwood, D2 Solar CEO. Duncan also said, "The transition process has been very smooth and we are looking forward to a long term relationship involving future Suntactics products."
The recent Consumer Electronics Show in Las Vegas highlighted the expanding marketplace for Tablets and Smartphones which require powerful solar chargers like the PC5 to provide both instant usage and charging. Current and future Tablets and Smartphones need a highly reliable solar charger that is simple to use and hassle free.

no internal battery to wear out making device inoperable
no attachments required, optimized for USB solar charging
no charging resets required, unique circuitry optimizes charging
no usage interruptions, charges & runs continuously
no operational issues: durable, weather resistant and dependable
Suntactics and D2 Solar are now prepared to meet their customer demands for PC5s and do it in a truly environmentally responsible way with a product that is designed for long-term value and not obsolescence.
###