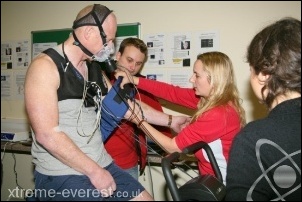 SunTech Medical is excited for the opportunity to see our blood pressure technology deliver valuable research data under such extreme conditions
MOUNT EVEREST, Nepal (PRWEB) April 24, 2007
Part of the testing includes assessment with the MetaLyzer(R) cardiopulmonary exercise system from CORTEX. SunTech Medical provides OEM blood pressure technology for the MetaLyzer system to accurately and reliably obtain blood pressure measurements under the demanding conditions of stress and exercise.
"SunTech Medical is excited for the opportunity to see our blood pressure technology deliver valuable research data under such extreme conditions," says Dayn McBee, CEO. "We are hopeful that the information our product provides will help the Caudwell team increase their understanding of critically ill patients."
SunTech provides blood pressure technology for use in a variety of challenging conditions including projects for NASA as well as for difficult clinical applications such as patient transport, dialysis, and cardiac stress testing.
The Caudwell Xtreme Everest Team hopes to gain an understanding of how human performance at extreme altitudes relates to conditions and reaction during critical illness. Results of this research may help physicians understand how patients react to low oxygen levels and lead to improved care for the critically ill. SunTech Medical certainly supports this goal and is proud that Cortex Biophysik and the Xtreme Everest Team chose SunTech Medical as their blood pressure solution.
Caudwell Xtreme Everest Project is coordinated by the UCL Center for Altitude, Space and Extreme environment medicine (CASE). For more information, please visit http://www.xtreme-everest.co.uk
Cortex develops and manufactures innovative metabolic stress testing systems used by healthcare professionals in sports medicine, cardiology, pulmonology, occupational and rehabilitation medicine. For more information, please visit http://www.cortex-medical.com.
SunTech Medical, located in Morrisville, N.C., is the world leader in providing clinical grade non-invasive blood pressure monitoring products and technology. SunTech's product lines include 24-hour ambulatory BP monitoring devices, BP monitors for stress testing systems, and BP cuffs. The company supplies OEM NIBP technology to many of the world's leading medical device companies for a variety of environmental challenges and specialized patient populations. For more information, please visit http://www.suntechmed.com.
Optimized by Newsforce