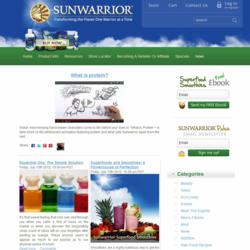 We've hired two skilled writers, contracted several freelance writers, and sought out top health professionals to become ambassadors.
(PRWEB) July 17, 2012
Sunwarrior, a Southern Nevada company and a leading provider of plant-based protein powder and supplements, announced today that they completely overhauled their news site. The site has a sleeker layout that more closely matches the design of their website and product labels. They have also worked on acquiring new content.
"We've hired two skilled writers, contracted several freelance writers, and sought out top health professionals to become ambassadors." said Denley Fowlke, cofounder of Sunwarrior. "They will drive the content of Sunwarrior News to an exciting and much more competitive level. We hope to be a site that people automatically turn to for health and fitness articles on the latest health related news, scientific discoveries, exercise routines, and plant-based nutrition, including recipes, activities for families, and eco-friendly, holistic living."
Sunwarrior seeks out leading professionals, experts, and authorities in the health, fitness, and nutrition fields, including athletes, nutritionists, chefs, and more to perform as ambassadors for the Sunwarrior products and the Sunwarrior mission to illuminate body, mind, and planet. These ambassadors provide content for Sunwarrior News in the form of articles, video, recipes, and other media, each one coming from diverse backgrounds with their individual bases of knowledge. These distinct experiences all apply to health and fitness in some way and will now mesh together for reader's convenience in one place.
"We'll continue to improve Sunwarrior News and seek out the finest ambassadors," said Fowlke. "These experts have rich histories and advice to share and we're happy to have made our site worthy of their guidance and expertise."
About Sunwarrior
Sunwarrior was born on a warm Arizona evening in 2008 during the Sedona Raw Spirit Festival. Three different men with three different dreams met with one desire, to create a company and a product that benefit mankind and the planet mankind occupies.
Brent Hauver, Denley Fowlke, and Nick Stern each had to overcome distinct health difficulties for themselves and their families. Each turned to plant-based nutrition to aid their quest for health, but those roadblocks also steered them toward a better way of living and to this fateful meeting.
The three men combined their dreams, their savvy business personalities, and their environmental consciousness to create Sunwarrior, a company committed to making the best plant-based products while elevating humanity and preserving the planet.
Visit http://www.sunwarrior.com now to learn more about Sunwarrior. Visit http://www.sunwarriornews.com to see the revitalized news site.