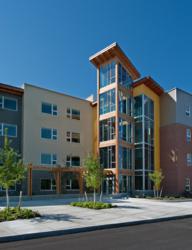 We had a natural partnership with SUNY ESF as we share a common goal – to construct with a focus on sustainability and environmental stewardship
Farmington NY (PRWEB) January 02, 2012
The newly built SUNY ESF dormitory, Centennial Hall was recently awarded USGBC LEED Gold certification. The dormitory observation tower, crafted and raised by New Energy Works Timberframers, offers a unique space for students/residents to gather, study, and relax with panoramic campus views.
Centennial Hall at SUNY ESF in Syracuse, NY houses over 400 students each semester. It was designed by Holmes King Kallquist and is the first dormitory on campus. New Energy Works Timberframers provided all of the timber frame elements, including 55' glulam posts and solid Douglas fir beams of the observation tower. Crafted using traditional mortise and tenon design, the structure helps balance the concrete and steel of the new dormitory, while playing homage to the region's post and beam roots.
"We had a natural partnership with SUNY ESF as we share a common goal – to construct with a focus on sustainability and environmental stewardship. With sustainably harvested timbers and our own LEED AP staff members we were able to craft a truly environmentally friendly and efficient structure," explains Brian Mosch, general manager at New Energy Works Timber Framers. "We're excited that Centennial Hall has achieved LEED Gold status."
In addition to the observation tower, an attached exterior trellis, crafted from weather resistant Western Red Cedar, offers shade and shelter for bikes and benches. Centennial Hall was constructed using a multitude of sustainable building materials including the LEED eligible Douglas fir and Cedar timbers. Timber framing is an efficient method of construction and in combination with prefabricated modular units, waste was minimized, and the dormitory project maintained a tight construction schedule.
New Energy Works Timber Framers have been designing and building environmentally responsible timber frames across the USA for nearly 30 years from their facilities in New York and Oregon. Offerings include: Timber Framing (design, engineering, manufacturing, build), Enclosure Systems, Fine Woodworking, and Recycled and Sustainable wood products. New Energy Works has 2 LEED AP staff members, is a member of the US Green Building Council, and is FSC Certified in three categories.
###