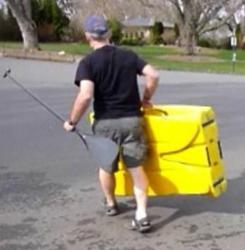 Our folded design makes the Origami Paddler easier and safer to carry without giving up performance or stability.
Bellingham, Washington (PRWEB) April 24, 2012
Tim Niemier, the watercraft designer who introduced the world to sit-on-top kayaks, is now about to revolutionize the popular sport of stand-up paddle boarding. His latest design, the Origami Paddler, folds for easy transport and storage, the two biggest obstacles facing people wanting to enjoy today's fastest growing water sport.
The Origami Paddler folds in on itself at two points making it relatively square and easy to carry and store, eliminating the need to heft it up onto car roof racks and making it much easier to carry down winding trails and across crowded beaches. This is in stark comparison with conventional boards that are over 10 feet long, bulky, curved and lacking a flat surface to set it on. When folded and in its soft-shell carrying case, the Origami Paddler conforms to the weight, shape and size requirements for most shipping companies. Niemier states, "Lugging around a 10-foot-plus board is difficult, if not impossible, for many. Our folded design makes the Origami Paddler easier and safer to carry without giving up performance or stability."
When ready to set out on the water, patent-pending easy-to-use bindings keep the board solidly rigid for use on the water. This provides the full performance benefits of a solid board without the need for expensive transport and storage accessories. According to Niemier, "The only other option is an inflatable paddle board which doesn't perform or glide in the water as well, requires carrying a pump with you and runs the risk of leaving you limp out on the water."
This unique product is also taking a unique path to market. Tapping early groundswell interest, Origami Paddlers are being pre-sold via the company web site (http://OrigamiPaddler.com ) at greatly discounted prices. Revenue from these "pre-sales" will be used to begin production. This enables and rewards the earliest supporters for being part of the community responsible for making this popular recreational watersport more accessible and affordable to people worldwide.
About On Water Designs
Since selling his premier sit-on-top kayak company, Ocean Kayaks, Tim Niemier has been providing design and manufacturing consulting services as On Water Designs. Currently, Niemier is taking his recent creation, Origami Paddler, a revolutionary folding paddle board, to market via direct sales from its web site, OrigamiPaddler.com.