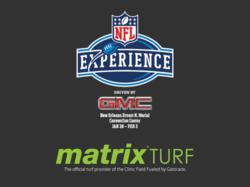 We are excited about the opportunity to provide Matrix Turf for the NFL Experience
NEW ORLEANS, Louisiana (PRWEB) January 24, 2013
Hellas Sports Construction will install 29,000 square feet of their premium-quality synthetic turf – Matrix Turf – designed specifically for the Clinic Field Fueled by Gatorade at the 21st Annual NFL Experience Driven by GMC at the Ernest N. Morial Convention Center. This is the second year in a row for Hellas to provide the turf and install the field. They were selected for their quality and track record when it comes to product performance and installation.
Accompanying the Matrix Turf is Vice President of Hellas Sports Construction's Turf Division, Bruce V. Layman. He will supervise a swift installation, ensuring the field is ready for the upcoming festivities.
Prior to the Super Bowl, the NFL Experience Driven by GMC attracts hundreds of thousands of fans from across the world to engage with some of the biggest names in American football. Attendees have the opportunity to get autographs from a number of players, participate in football-themed activities, and even take photos with NFL memorabilia. The Matrix Turf will serve as the official turf provider of the Clinic Field Fueled by Gatorade, which is where younger fans will be able to participate in coaching sessions, competitions and demonstrations from current and former players!
The NFL Experience Driven by GMC begins January 30 at 3 p.m. and wraps up February 3 at 4 p.m., just before kickoff of Super Bowl XLVII.
"We are excited about the opportunity to provide Matrix Turf for the NFL Experience," commented Reed J. Seaton, President and CEO of Hellas Construction, Inc. "We look forward to hearing feedback about our turf – not to mention seeing the joy it will bring the young fans engaging with NFL players in such a unique and positive way."
Hellas Sports Construction will have Business Development Managers Amy Champion, Eric Lutz, Randy Bullock, Dan Collier and Jim Loerwald on-hand during the NFL Experience Driven by GMC to answer any questions about Matrix Turf and engage teams, fans and media contacts.
To purchase tickets for the NFL Experience, visit: http://www.ticketmaster.com/NFL-Experience-tickets/artist/1178331
Hellas Sports Construction has a solid reputation for delivering premium-quality sports construction projects across the United States. Hellas also manufactures and installs its own proprietary synthetic sport surfaces for field sports, running tracks and tennis courts, controlling all operations from their corporate headquarters in Austin, TX. Hellas clients include Cowboys Stadium, the AT&T Cotton Bowl Classic, University of California at Berkley, Baylor University, Idaho State University, the Alamodome, Northern Arizona University, University of San Diego, University of North Carolina at Charlotte and other prominent collegiate institutions and stadiums.
For more information about Hellas Sports Construction, visit: http://www.hellasconstruction.com.
For more information about Matrix Turf, visit: http://www.matrix-turf.com.