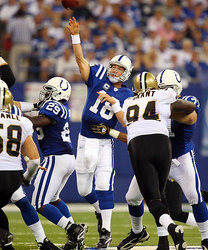 Houston, TX (PRWEB) February 3, 2010
When Super Bowl XLIV gets underway, College Alumni can use Metal Bar Stools from Home and Bedroom to celebrate their College Alma Mater. The online retailer of quality discount furnishings has just added Holland Bar Stools that are decorated with the Team Logos of 67 Colleges.
While The Indianapolis Colts and the New Orleans Saints slug it out in Miami, Alumni from 67 College Teams can sound off for their schools, including Texas A&M, University of Maryland, Arizona State, Florida State, Texas Christian University and the University of Nebraska. ESPN estimates that 63% of Americans are fans of college football, making it the second most popular sport. That gives it a potential fan base of 194,254,200. What's more, according to RealFootball365.com, college football scored a record attendance of 37.1 million in 2007.
Home and Bedroom Furniture's new lineup of Holland College Logo Bar Stools gives loyal Alumni a way to show off their schools at home. The Holland Company, based in Holland, Michigan, seals every product it manufactures with the "Kiss of Quality." From the raw parts to the finished product, Holland focuses its utmost attention on detail to ensure that its products are guaranteed to please the customer.
So, break out the Hot Dogs, Chili, Chips and Salsa and gather round the 52" TV and Home Bar on February 7th. For those looking for a way to celebrate their beloved College, check out Home and Bedroom's online offerings. A wide range of Bar Furniture can be found at Home and Bedroom from Holland Furnitures Logo Bar Stools to Hillsdale Bar Stools and Pastel Bar Stools. To see all teams that are represented in this affordably priced line of personalized bar stools, visit the company online at http://www.home-and-bedroom.com/.
###