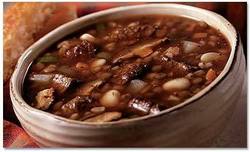 The soup can stay hot on the stove all through the game and is one of the easiest and most delicious Super Bowl dishes to feed a hungry crowd that you will find
Waukegan, IL (PRWEB) January 19, 2009
Creating fun at home Super Bowl parties is easy and economical with some help from Frontier Soups, starting with gourmet dips and some hot soup to serve family and friends.
Warm up the crowd with a hearty bowl of beef barley soup. Frontier Soups Dakota Territory Beef Barley Bean Stew is on sale in January for $5.95 and serves eight to 10 hearty portions. Free shipping is available on all orders over $75. Home cooks just add beef broth, stew meat, potatoes or turnips and fresh mushrooms to the mix's baby limas, lentils, barley, leeks and shitake mushrooms spiced with a flavorful herb blend. "The soup can stay hot on the stove all through the game and is one of the easiest and most delicious Super Bowl dishes to feed a hungry crowd that you will find," said Trisha Anderson, Frontier Soups' founder. Even better, she added, Frontier Soups' soups, stews, chilis and chowders are healthy snacks and meals. They are all natural with no added salt, preservatives or MSG.
Super Bowl recipes, including appetizer recipes and finger food recipes, are available at FrontierSoups.com. Partiers can enjoy a variety of Super Bowl party snacks with Frontier Soups' white ceramic Party Dip Bowl filled with five dip mixes, including a green onion dip mix and a chipotle dip mix. Also in January, Frontier Soups is making cooking and entertaining at home easier on the budget with its Baker's Dozen special, allowing customers to mix and match 13 soups for only $75, a savings of up to 18 percent.
About Frontier Soups:
Waukegan, IL based Frontier Soups was founded in 1986 with a mission to produce creatively crafted, wholesome, nutritious and delicious soups. The company now offers 38 gourmet soup mixes, including chili, chowders, as well as cornbread, pasta salads and dip mixes, which are available in specialty stores, such as A Southern Season, Whole Foods, Central Market, Great Harvest Bread Company, Omaha Steak stores and independent specialty retailers or online at http://www.frontiersoups.com.
###