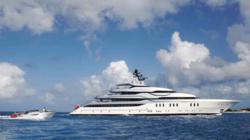 In a world that is increasingly the same wherever you go, we hope to celebrate individuality
Istanbul, Turkey (PRWEB) May 08, 2012
On Saturday evening, the superyacht industry's elite gathered in the magnificent surroundings of the Çırağan Palace Kempinski, for the seventh annual World Superyacht Awards, which honour the finest new superyacht builds delivered to their owners in the past 12 months.
Boat International Media CEO Tony Harris welcomed the guests to Istanbul, and to the award ceremony which 'recognises the world's best private yachts and the men and women with the vision to commission the world's finest designers and builders to realise their dreams'.
'In a world that is increasingly the same wherever you go,' he said, 'we hope to celebrate individuality.'
THE NIGHT'S BIG WINNERS WERE...
Tango: Motor Yacht of the Year, sponsored by Camper & Nicholsons International. The 77.7m yacht was built by Feadship and styled by Eidsgaard Design.
Vertigo: Sailing Yacht of the Year, sponsored by Proteksan Turquoise. The 67.2m yacht was built by Alloy Yachts and styled by Philippe Briand, with an interior by Christian Liaigre Yacht Design.
Golden Compass: The Voyager's Award, sponsored by Alloy Yachts. The owners of the 46m motor yacht completed an inspirational 30,000nm world cruise, begun in the USA and concluded in Papua New Guinea, visiting over 45 countries along the way.
Neville Crichton: The Legacy Award, sponsored by Perini Navi. Honoured for his instrumental role in the establishment and growth of the New Zealand superyacht building industry, for his leading position in the world of sailboat racing, his generosity of spirit, and his inspiration to others in these fields.
MOTOR YACHT AWARDS
Motor Yacht of the Year: Tango
Displacement Motor Yacht 3,000GT and above: Serene
Displacement Motor Yacht 1,300GT to 2,999GT: Tango
Judges' Special Award – Interior Design with the Widest Appeal: Numptia
Displacement Motor Yacht of 500GT to 1,299GT: Kaiser
Displacement Motor Yacht below 500GT: Helix
Three Deck Semi-Displacement or Planing Motor Yacht: Satori
Two Deck & Open Semi-Displacement or Planing Motor Yacht: Shooting Star
Raised Pilothouse Semi-Displacement or Planing Motor Yacht: Aurelia
SAILING YACHT AWARDS
Sailing Yacht of the Year: Vertigo
Sailing Yacht in 40m+ Size Range: Vertigo
Judges' Special Award – Notable Contribution to the Technical Advancement of Sailing Superyachts: Hetairos
Sailing Yacht 30m – 40m Size Range: Antares III
OTHER AWARDS
Refitted Yacht: Destination
Voyager's Award: Golden Compass
Legacy Award: Neville Crichton
The gala evening, which combined a gala dinner and dance, was attended by an elite guest list of international superyacht owners, their families, friends and the most influential players in the superyacht industry. News broadcaster Natasha Kaplinsky presented the 16 prized silver Neptunes – dubbed the Oscars of the superyacht world – and five Judges' Commendation prizes, custom made for the occasion by Baccarat, to the winners on the night.
The World Superyacht Awards will return to Istanbul, Turkey in May 2013