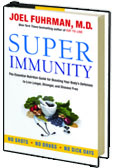 Super Immunity is a much needed book that contains the key to ending the cycle of sickness that plagues many of our lives. This is enlightened medicine, at last!" — Dr. Alejandro Junger, New York Times bestselling author of Clean
San Francisco, CA (PRWEB) September 20, 2011
Falling victim to the latest cold, flu or virus circulating at the office, the kids' school, or public transportation need not be an eventuality. Sick days can become a thing of the past by focusing on the right combination of nutritious foods that increase the body's defense to colds, flu, heart disease, autoimmune disorders and cancer by boosting the strength of the immune system.
A leading expert in preventing and reversing disease and board-certified medical specialist, Dr. Fuhrman offers a proven program to boost immunity to superior levels to stay healthy and live longer with SUPER IMMUNITY: The Essential Nutrition Guide for Boosting Your Body's Defenses to Live Longer, Stronger, and Disease Free (HarperOne; September 2011). Dr. Fuhrman's compelling, yet easy-to-follow approach gets the body's immune system working to its fullest potential and the body's strongest defense.
Based on the latest scientific research, SUPER IMMUNITY reveals how to become almost totally resistant to colds, influenza and other infections. If we do "catch" something, 'super immunity' provides us the ability to bounce back to wellness quickly, often within 24 hours. This means that we can prevent the complications of viral and bacterial exposures and stop them from evolving into more dangerous infections.
Due to unhealthy, nutrient deficient daily diets, far too many of us are living with severely depleted immune function. Our food choices are making us sicker, shortening our lives, and costing us billions of dollars on doctor visits, hospital stays, and prescription medications. But more medical care is not the answer, according to Dr. Fuhrman; rather the best solution is changing the way we eat. The key is shifting away from highly processed foods, added sweeteners, animal fats and excessive amounts of protein, and reorienting our daily meals toward nutrient dense vegetables, fruits, beans and seeds that help our bodies produce critical immune-building compounds.
Dr. Fuhrman cites the latest science and compelling patient testimonials in SUPER IMMUNITY. One study revealed that a 20% increase of cruciferous vegetables such as broccoli, kale, arugula, and cabbage corresponds to a 40% decrease in cancer rates. Patients who Dr. Fuhrman treats with 'nutritional therapy' report reversal of diseases such as cancer and lupus, and prevention of infections, colds, flu and allergies.
SUPER IMMUNITY contains a wealth of information for better health, including the latest science on foods including soy, olive oil, nuts, and any other foods; the latest anti-cancer research; a list of super foods for super immunity; a two-week daily menu planner ; and 85 delicious recipes. Dr. Fuhrman helps readers put the latest nutritional science into practice for improved health, increased longevity, and a powerful immune system.
Advance quotes for SUPER IMMUNITY:
"This should be the book everyone is talking about. I encourage you to buy it, read it, and apply it so you can join the conversation on true health." — Wayne S. Dysinger, MD, MPH, Chair, Department of Preventive Medicine, Loma Linda University President, American College of Lifestyle Medicine
"Dr. Fuhrman has found a way we can prevent most of the diseases that plague Western society. Super Immunity is a fantastic read that scientifically explains the origins of Western disease and lays out viable solutions to our unhealthy lifestyles. I will definitely be recommending this book to my patients!"
— Garth Davis, M.D., start of TLC's Big Medicine and medical director of Bariatric Surgery at Memorial City Hospital, Houston, Texas
"I have been a follower of Dr. Furman's work for a long time. As one of my heroes and teachers, he has contributed to my understanding of the incredible power of food. Super Immunity is a much needed book that contains the key to ending the cycle of sickness that plagues many of our lives. This is enlightened medicine, at last!" — Dr. Alejandro Junger, New York Times bestselling author of Clean
About the Author:
Joel Fuhrman M.D. is a board-certified family physician who specializes in preventing and reversing disease through nutritional and natural methods. He is the author of numerous books, including Eat To Live: The Amazing Nutrient-Rich Program for Fast and Sustained Weight Loss. He is a graduate of the University Of Pennsylvania School Of Medicine and a member of the Board of Directors of the American College of Lifestyle Medicine and the Director of Research of the Nutritional Research Project of the National Health Association. Dr. Fuhrman is also on the Science Advisory Board of Whole Foods Market.
SUPER IMMUNITY: The Essential Nutrition Guide for Boosting Your Body's Defenses to Live Longer, Stronger, and Disease Free
By Dr. Joel Fuhrman
HarperOne, an imprint of HarperCollins Publishers
On-sale September 20, 2010 * Hardcover * $25.99 * ISBN: 9780062080639
ALSO AVAILABLE AS AN EBOOK
# # #