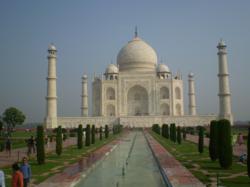 Vancouver, BC (PRWEB) August 01, 2012
Jumpstart spring with a visit to incredible India this February. This Super India program begins upon arrival into Delhi, the political capital of the country and covers the highlights of magical Rajasthan.
Discover the various colors and vibrancy along with warm hospitality and fascinating Indian culture through a tour of Old and New Delhi. The hustle and bustle of Old Delhi is a delightful way to experience the trade and negotiations of goods amongst commercial traders. Explore the India Gate (the war memorial), the Presidents House (from outside) and the Lotus temple. Its distinctive lotus shaped marvel in marble is a symbol of peace.
What trip to India would be complete without a stop at the Taj Mahal in Agra? The 17th century Taj Mahal is often called a poem in stone. The mausoleum is a love poem created by Mughal Emperor Shah Jahan for his favorite wife Mumtaz Mahal. It took 22 years to complete and was designed and planned by a Persian architect Ustad Isa. Apart from its stunning design balance and perfect symmetry, the Taj is also noted for its elegant domes, intricately carved screens and some of the best inlay work ever seen.
The tour continues on, to Jaipur, a royal city with diverse colors and history brimming monuments and citadels for an excursion to magnificent Amber fort. It is known for its unique artistic style, blending both Hindu and Muslim (Mughal) elements, and its ornate and breathtaking architectural mastery. Accent the fort riding on Elephants or Jeeps and drive past Hawa Mahal (Palace of Winds), one of the most photographed monuments of the city. Continue to City Palace and its museum where participants will enjoy a rickshaw ride through old part of Pink City.
The next leg of the tour includes Pushkar and Udaipur. In Pushkar, the holy city, guests will enjoy a Pooja ceremony on Ghat with a Hindu Priest in Pushkar and the lights and sounds of the bazaar. Udaipur is the most romantic city of Rajasthan. Its City Palace is a conglomeration of buildings added by various Maharanas and it manages to retain a surprising uniformity of design.
Discover the forts & palaces of the Marwar region as guests travel further to Jodhpur and Jaisalmer. In Jaisalmer, visit Jaisalmer Fort—the main attraction of this picturesque desert city, built in 1156. At two hundred and fifty feet tall and reinforced by an imposing crenulated sandstone wall 30 feet high, it is the second oldest fort in Rajasthan.
Next visit the royal city of Bikaner and continue to Mandawa, famous for its hand painted Havelis and frescoes where guests will see splendid examples depicting the regional folklore. From camel rides to one of the Seven Wonders of the World (the Taj Mahal), Chinapac's Super India's tour provides a luminescent experience of India's rich culture.
The 18-Day Super India tour departs Vancouver February 21, 2013 and returns on March 14. Packages begin at a low $2299 plus taxes from Vancouver and include 4 star hotels. Other departure cities are available. For more information, call 1-800-661-8182 or http://www.chinapac.com.
Chinapac International specializes in travel service to China and the Orient and is proud to celebrate 27 successful years in the travel industry as the premier travel package tour operator to the People's Republic of China and South East Asia.
###