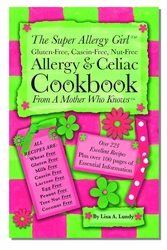 Just because a food is labeled non-dairy or lactose-free does not mean it is free of all milk proteins
Buffalo, NY (Vocus) July 16, 2009
The Got Milk? advertising campaign is a cleverly put together series of ad slicks in national magazines featuring celebrities that draws attention to a mainstay of nutrition in the American diet: milk. While milk contains vital vitamins and minerals like calcium, riboflavin and B vitamins, for the people who are highly allergic, just a little bit of milk can send them to the emergency room or worse. A new short video and tip sheet is now available from motivational speaker and allergy and celiac cookbook author, Lisa A. Lundy. You can download the tip sheet from her website, http://www.TheSuperAllergyCookbook.com or watch the video here. Besides being found in food, milk can be found in small amounts in vaccines, drugs, household paints, school supplies like glue, nutritional supplements and even in some personal care products.
Medical experts estimate that milk allergies occur in 2% to 5% of babies with the majority of these infants outgrowing their milk allergy by 3 years of age. Between 30 and 50 million Americans are estimated to be lactose intolerant, a condition defined as the inability to digest lactose, a component of milk and other dairy products. Common symptoms of lactose intolerance include abdominal pain and bloating, gas, nausea, diarrhea, and watery stool. Milk allergy signs and symptoms can occur immediately after consuming milk or some time later and include wheezing, vomiting, hives, loose stools which may contain blood or mucus, diarrhea, abdominal cramps, coughing, runny nose and skin rashes. In people with severe milk allergies, ingesting milk can cause anaphylaxis, a life threatening reaction that requires prompt medical attention.
In addition to people with milk allergies or lactose intolerance, there has been for many decades parents and professionals who recommend special diets, often free of gluten and milk, to improve or resolve health concerns like ADD, ADHD, gastrointestinal issues, irritable bowel, depression, anxiety, behavior issues, learning problems, abdominal pain and bloating.
As a mother to a child who is highly allergic to milk, Lundy knows just how cautious you have to be since milk is often used as a filler in medications and in other products. Her cookbook, The Super Allergy Girl™ Allergy & Celiac Cookbook, is a gluten-free, dairy-free, egg-free, peanut-free, tree nut free and other allergen free resource for individuals with severe allergies as well as intolerances or sensitivities. "Just because a food is labeled non-dairy or lactose-free does not mean it is free of all milk proteins," Lundy said. "There can still be casein or whey or other milk proteins sufficient to cause a reaction in highly allergic individuals. People need to read food labels on a regular basis."
One product that Lundy typically recommends to people who have a milk allergy or who are lactose intolerant is DariFree™, a non-dairy milk alternative that is free of gluten, casein, fat, soy, rice, MSG, protein and cholesterol. It contains vitamins and as much calcium as milk. Unlike other non-dairy milk substitutes, DariFree™ is a dry powder, which makes it convenient for traveling and baking. DairFree™ is easily constituted with water and tastes great. It is available from Vances Foods.
Lundy's tip sheet is a handy one page reference that lists many of the common names for milk proteins or derivatives, which is designed for people who are new to having a milk allergy. Her website is rich with tip sheets, white papers, recipes and videos to help consumers life a great life despite any food issues. Lundy's three children all have some degree of food allergies and one has celiac disease. Her book is available at http://www.TheSuperAllergyCookbook.com .
Size: 6" x 9"
Pages: 405 pages
Soft Cover, Perfect Bound
ISBN#: 978-0-9797542-0-3
Price: $28.95
Contact:
Ms. Lisa Lundy
Phone: (716) 835-6392
###