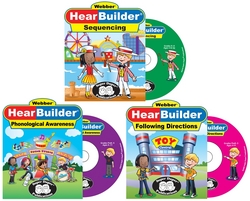 ...this program does an outstanding job of providing a wide variety of direction following activities, which range from simple to very complex, while keeping it fun for the child. -Kristen D.-
Greenville, SC (PRWEB) February 22, 2011
Super Duper Publications has won the Family Choice Award for three of its new learning software programs, Webber HearBuilder Following Directions, HearBuilder Sequencing, and HearBuilder Phonological Awareness (http://www.hearbuilder.com). For 15 years, the Family Magazine Group, America's largest free parenting publication, has recognized the best in children's and parenting products and services with their Family Choice Award.
Kristen D., a parent from Stockton, New Jersey states, "I purchased this program (HearBuilder) for my 4 year-old son, who has receptive language/auditory processing difficulties. He likes it so much that he asks to play it every day, and I was very pleasantly surprised by how well he progressed through the levels. In my opinion, this program does an outstanding job of providing a wide variety of direction following activities, which range from simple to very complex, while keeping it fun for the child. The concept of the game is well thought-out, the graphics and colors are eye-catching, and even the accompanying soundtrack is appealing. An outstanding program overall."
HearBuilder Following Directions is evidence-based interactive software that helps children improve their abilities to listen to and follow directions as they become Master Toy Makers and build their own virtual Toy Central Factory. It gives children a systematic way to improve these skills as they work on each step-by-step task. Ultimately, children gain knowledge of 40 basic concepts in five key areas: Basic Directions, Sequential Directions, Quantitative and Spatial Directions, Temporal Directions, and Conditional Directions.
HearBuilder Sequencing is research-based interactive software that features 120 illustrated sequences for targeting comprehension and critical thinking. At the beginning of the program, children place 2-step sequences in order. As they progress, they reach the highest level, with 6-step sequences. During the program, children earn virtual tokens to play games at the fun-filled arcade between levels.
HearBuilder Phonological Awareness is evidence-based interactive software that increases awareness of words, syllables and phonemes (sounds). Children learn to segment, blend and manipulate words, syllables, and sounds in nine target areas: Sentence Segmentation, Syllable Blending, Syllable Segmentation, Rhyming, Phoneme Blending, Phoneme Segmentation and Identification, Phoneme Deletion, Phoneme Addition, and Phoneme Manipulation. As children move through each multi-level task, they earn instruments and band members to ultimately form the virtual rock band, The Phonemix.
The HearBuilder series has received accolades from several prestigious awards: The Teachers Choice Award, The Tech & Learning Award of Excellence and the National Parenting Center Seal of Approval. Super Duper will be releasing its latest in the lineup, HearBuilder Auditory Memory, in April, 2011.
Founded in 1986 by Sharon and Thomas Webber, Super Duper Publications creates fun educational materials for children with special needs. Their website offers a wide variety of products for teachers, therapy professionals, and parents to use with children in the classroom, in a therapy setting, and at home. To see the full line of Super Duper products, visit http://www.superduperinc.com.
###