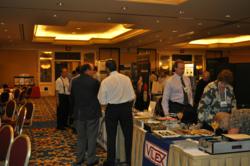 "Great venue and great speakers, Dr. Kalish has done it again. Great job by all, doctors, exhibitors, lecturers, and support staff"
South Beach, Miami, Florida (PRWEB) February 26, 2013
Superbones East will be at the fabulous Loews Miami Beach Hotel, situated in the heart of South Beach. The Loews is an upscale 4.5 star luxury resort that caters to the unique needs of its guests. Located directly on the beach, guests can enjoy an oceanfront swimming pool, a Jacuzzi and poolside entertainment. Dine indoors or on the terrace at Preston's, where you will find Mediterranean cuisine made from fresh, local ingredients. Those who love sushi will want to visit Sushi SoBe, which showcases the culinary talents of one of only eight master sushi chefs in the United States. For more informal dining, guests can choose from the Nautilus Bar & Grill, an ice cream shop or a coffee bar.
While you are attending the CME lectures in the mornings, your family members will have plenty of activities to keep them busy. After a calming session of hydrotherapy and a soothing sauna at Loews spa and fitness center, they can relax with a cup of herbal tea or enjoy a rejuvenating facial. The new schedule leaves Sunday free for those attending to take a stroll down South Beach, visit area attractions with the family, or just relax and take pleasure in the exquisite beauty of the Atlantic Ocean.
Nearby attractions include the Miami Seaquarium, Zoo Miami and Vizcaya Museum and Gardens. A visit to St. Moritz Spa Tower, a restored art deco South Beach landmark, is a nice prelude to a walking tour of the art deco district. Onsite shopping is available and a variety of boutiques and malls are conveniently close by.
Nightly entertainment includes soul, jazz and DJs spinning the latest tunes. Whether its reggae by the pool or Latin Fusion in the lounge, everyone will find something to enjoy.
The Superbones Conference West was held on Oct. 18-20, 2012, at the brand new Aria Resort & Casino in City Center, Las Vegas. State-of-the-art surgical procedures and current wound-healing techniques were among the CME lectures presented. Hands-on workshops reinforced the topics presented in the general sessions.
All of PRESENT's medical conferences include an exhibit hall which features products, technologies and services in the field of podiatry.
For those unable to attend one of PRESENT's foot conferences, podiatrists can attain CME credits through eLearning's online learning opportunities at http://podiatry.com. These online learning opportunities feature medical lectures presented by well-known experts in the field of podiatry. PRESENT's online health education includes the opportunity to ask questions of an international team of foot care experts, review case presentations and receive practical advice on the business side of medicine.
###