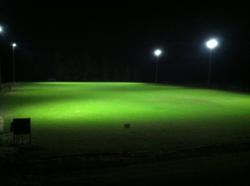 With HiViz LED Lighting technology for Field and Stadiums it just not necessary for the largest sporting event in the United States to be delayed 34 minutes due to a power surge.
Raleigh, NC (PRWEB) February 04, 2013
The power outage at the Super Bowl causing the lights to go through a 34-minute recycle to warm up which delayed the game could have been completely avoided using the HiViz Field and Stadium LED lighting technology. "Our LED stadium light solutions change the game completely compared to traditional metal halide lighting as is installed at the Super Dome. Using LED lights from VisionX, which are based on CREE diodes made in the USA, we provide the same amount of light, using 1/10th the power," Says Sam Massa, owner of HiViz Field and Stadium. He continues, "Most important, they can be turned instantly on and instantly off. There is no warm up time."
HiViz Field and Stadium installed the first "green" athletic field lighting solution in North Carolina using low cost, energy efficient LED lights. "I can't believe the Super Dome can't do what we can do at our local soccer field using the HiViz Field and Stadium. We love the instant-on/instant-off feature of the HiViz Field and Stadium lights at our soccer complex. It saves money and if we do have lights go off for any reason, they can be turned on without any delay. Our games start on time!", says Vic Kubit, member of the Fayetteville Soccer Club.
Massa explains why there is a delay with traditional stadium lights. "The layman explanation of the reason there is a delay with the lights like those used at the Super Dome is that the lamp itself contains gas inside, metal halides. To turn on the light, an arc, much like a welding arc, is created that excites the gas and causes it to shine bright light. The lamps become very hot, hundreds of degrees, when operating. This creates tremendous pressure inside the lamp and due to the pressure, the arc will not reignite the gas until the light cools down and the pressure subsides. This typically takes 20 minutes or more."
The following video shows the instant-on instant-off advantage of some of the newest LED technology offered by HiViz Field and Stadium:
http://www.youtube.com/watch?v=w_54dcmGPJU
LED lighting technology is revolutionizing the lighting industry. The US manufacturer of LED diodes used in the HiViz LED Stadium and Lighting solutions, CREE, has seen significant growth. According to MarketWatch.com, CREE's 2nd quarter fiscal earnings were up 69% as the energy efficient light maker saw broad based revenue growth." Shares jumped 14% in recent after market trading.
I never thought I'd see this day where we have lights shining down on our the field with our kids playing at night" says Julie Bilyeu, mother of several youth soccer participants and wife of club Treasurer, Keith Bilyeu. "It has really cut years off of our fund raising efforts to provide lights for the fields and the operating costs are even less."
"Our LED lights used by HiViz Field and Stadium have been developed with rugged applications in mind ranging from mining to use in emergency fire and rescue trucks." says Tony Georgitsis, President of VisionX Global Lighting, a Seattle based manufacturer of LED lights used by HiViz Field and Stadium. "We have 5,000 of the most recent design of our light heads in operation and have not had one fail." VisionX provides lighting to industries, such as mining operations, in which a light going out costs $60,000 an hour. Considering a Super Bowl commercial which costs $3.8M for every 30 seconds, the cost of the lights being out is estimated to be $258M.
"Lighting for television is what drives the lighting requirements at any professional televised football game" says Mark Miller, technical member of the HiViz Field and Stadium team. "The requirement for lighting for professional football is 250 footcandles of light on the field. Traditional lighting solutions are tremendously challenging as they degrade over time." As an example of what Miller states, according to reporter Peresh Dave, [Fox Sporting officials at the Coliseum in Los Angeles noted, since the lights were installed in 2009, they have lost 26% of their light output.
"It is just a completely different technology" offers Sam Massa. "Our LED lighting solutions could be turned on and left on for 6 years without having to replace a bulb or diode." He continues, "If there were power outages during that time, the lights would come on instantly when the power was restored and be shining at their full luminescence".
The outcome of the Super Bowl may have been effected by the light outage and delay.
HiViz Field and Stadium is located in Lillington, NC. Both are owned and operated by firefighter, Sam Massa and his team . For more information about how HiViz Field and Stadium can provide your organization with low cost, energy efficient field lighting solutions, please see http://www.lightmyfield.com or contact HiViz Field and Stadium by emailing sales@hivizleds.com or calling the office at 703-662-3458. VisionX Global Lighting is located in Seattle, WA and has been providing lighting solutions for close to 30 years.