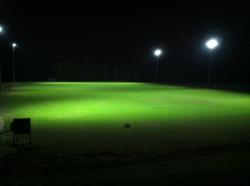 The issue really isn't that a power outage occurred. As the saying goes, "stuff happens". The issue is that it took 34 minutes to re-establish adequate lighting. That is something that the Big Easy can easily avoid using today's LED lighting technology
New Orleans, LA (PRWEB) February 05, 2013
What has been characterized by New Orleans Mayor Mitch Landrieu as "an unfortunate moment in what has been an otherwise shining Super Bowl week for the city of New Orleans." is a moment that could have been completely avoided had the $300 million renovation of the Superdome used the LED technology available today from lighting solution providers such as HiViz Field and Stadium.
"A lot has advanced in lighting technology since 2005 when New Orleans began to renovate the Superdome after hurricane Katrina. Whether it was the amazing performance of Beyonce, a power surge, or some unfortunate circumstance, the power to the lights was cut." Observes Sam Massa, owner of HiViz Field and Stadium, provider of LED area lighting solutions. "The issue really isn't that a power outage occurred. As the saying goes, 'stuff happens'. The issue is that it took 34 minutes to re-establish adequate lighting. That is something that the Big Easy can easily avoid using today's LED lighting technology."
The Huntington Post states the facts and asks the most important question, "The lights went out on the biggest game of the year. Just imagine the uproar if Baltimore had lost." (Huntington Post Super Bowl blackout) Whether it be a correlation or a cause and effect, every viewer can see what Baltimore fullback Vonta Leach said. "It really hurt us. We had lot of momentum." The Ravens had been cruising along with a 28-6 lead and all the momentum was their way in the game as Jacoby Jones returned the second-half kickoff for a touchdown. Then without warning, the power to the Superdome suddenly shut down early in the third quarter, plunging parts of the 38-year-old stadium into darkness. After a 34-minute delay in which the lights had to warm up to reach the lighting levels required for the game to resume, the 49er's gathered their composure. The 49's proceeded to eroded the 22-point deficit and bring the game to a last minute goal line stand in which the Baltimore Ravens withstood the test and went on to win 34-31.
While everyone looks for blame and promises after action reports to be provided in the ensuing few days, HiViz Field and Stadium, outdoor area lighting partner of Vision X Global Lighting, looks at a tie between what was the other most memorable moment of Super Bowl XLVII, the stirring singing of America the Beautiful by Jennifer Hudson accompanied by a chorus of 26 student from Sandy Hook Elementary School (ABC News Jennifer Hudson Sandy Hook Chorus) "I know everyone wants to know what happened to cause the blackout and why. I think we all have a great lesson to take from the performance of the Sandy Hook Elementary School Chorus with Jennifer Hudson. We have to accept that some things happen, identify the problems, and then take action to keep it from occurring again. Most importantly we have to move on in our lives in this beautiful country." Comments James Christopher of HiViz LED lighting. "We also have to keep things in perspective. The greatest champions of Super Bowl XLVII were those kids. We can replace the old lighting technology to ensure that the lights can come back on quickly next time. We can never replace the light that shines from the hearts of those students, both who perished and who survived."
LED lighting technology is revolutionizing the lighting industry as is seen in the double digit quarterly growth of US manufacturer of LED diodes, CREE, and the higher quarterly growth of light manufacturer, Vision X Global Lighting. "Our LED lights used by HiViz Field and Stadium have been developed with the most rugged of applications and markets in mind." says Tony Georgitsis, President of Vision X Global Lighting, a Seattle based manufacturer of LED lights used by HiViz Field and Stadium in their area lighting solutions. "We can prevent the delays in lighting that occurred at the Superdome after power was re-established with our instant-on/instant-off technology." VisionX provides lighting to industries, such as mining operations and emergency/fire/rescue, in which a light going out costs $60,000 an hour or worse, can cost lives. A Super Bowl commercial costs $3.8M for every 30 seconds making the estimated cost of the lights being out to be $258M.
The cost to New Orleans could be much greater than a few hundred million dollars. "The story is much, much bigger than the Super Bowl," Mayor Mitch Landrieu said Monday afternoon to US News. (US News Spotlight on New Orleans)"This is a story about the resurrection and redemption of a great American city. The Super Bowl gives us an opportunity to reflect on where we've been and where we're going."
From 1970 to 2002, New Orleans was a regular host of the Super Bowl and hopes to become one again. Super Bowl XLVII held yesterday in the Superdome was the Crescent City's 10th hosting of the NFL's marquee game, tying Miami for the most of any city. Their hope was that if all went well, New Orleans would get back in the rotation.
Jay Cicero, president of the Greater New Orleans Sports Foundation, said his group will ask the NFL for permission to put together a bid for the 2018 Super Bowl, coinciding with the city's celebration of its 300th anniversary. That bid will no doubt be directly dependent on their strategy to prevent a recurrence of what happened that caused the 34-minute delay.
"Lighting for television is what drives the lighting requirements at any professional televised football game. The requirement for lighting for professional football is 250 footcandles of light on the field." says Mark Miller, technical member of the HiViz Field and Stadium team. The only way to achieve that in years past has been the use of metal halide lights which provide the luminescence at a high cost of power consumption and with the cost of 20+ minute delays to turn the lights back on if they go out for any reason"
"It is just a completely different technology" offers Sam Massa. "Our LED lighting solutions could be turned on and left on for 6 years without having to replace a bulb or diode." He continues, "If there were power outages during that time, the lights would come on instantly when the power was restored and be shining at their full luminescence".
"We want to see New Orleans return to is previous status as a world leading city and are reaching out to Mayor Mitch Landrieu and Jay Cicero, president of the Greater New Orleans Sports Foundation, to ensure that they are aware of the options available to them to address this most unfortunate occurrence." Says Tony Georgitsis, President of Vision X Global Lighting. "We've seen the heart of this great city respond to disaster in the past. They can respond to this and we hope we have the privilege to assist them."
HiViz Field and Stadium is located in Lillington, NC and is owned and operated by firefighter, Sam Massa and his team . For more information about how HiViz Field and Stadium can provide your organization with low cost, energy efficient field lighting solutions, please see http://www.lightmyfield.com or contact HiViz Field and Stadium by emailing sales@hivizleds.com or calling the office at 703-662-3458. VisionX Global Lighting (http://www.visionxusa.com) is leader in LED and other lighting solutions. They are located in Seattle, WA and have been providing lighting solutions for over 30 years.